President Wendy Pease honored by entrepreneurial group for continued support of women-owned businesses worldwide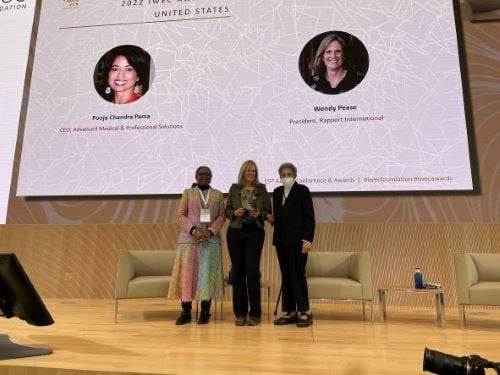 FOR IMMEDIATE RELEASE
Boston, MA and Lincoln, NE, December 1, 2022 – Rapport International, a multilingual communications company providing written translation and spoken interpretation services in over 200 languages, today announced receipt of the International Women's Entrepreneurial Challenge (IWEC) Award. Now in its 15th year, the award recognizes women who have achieved the highest standards in business through global expansion and international cooperation with other women-owned businesses.
"A new world of opportunities has arisen following the COVID-19 pandemic. Opportunities that are emerging across sectors, driven especially by globalization and digitalization, creating new business models and new ways to work," said Nancy Ploeger, IWEC Foundation Executive Vice President and Secretary of the Board. "At IWEC, we know that women's leadership is key to developing these opportunities and transforming them into value. The transformational power of female leadership is itself a resource that can and will make an impact on the economy and society."
The IWEC Foundation, an international economic empowerment program for women, maintains an ever-growing global network of women business owners, helping them gain access to – and traction within – international markets. Members and past and present awardees represent 47 countries from five continents, across all industries. Rapport International and its Owner and President Wendy Pease are being honored for supporting over 150 companies in their globalization efforts last year, providing translation management strategies designed specifically for cross-cultural understanding, as well as for a demonstrated track record of social responsibility.
"We are committed advocates for global growth, based on the belief that connecting people across borders and cultures will inspire a more peaceful and prosperous world," said Pease. "Our team at Rapport International is so proud of our work with IWEC and its constituents, and thankful for the opportunities it affords us in turn. And we are forever committed to paying it forward through our work with Opportunity International, UMCOR, the Pearl Buck Foundation, and the American Cancer Society, among others."
As a group, IWEC members generate over $1.4 billion in export revenue annually, and employ nearly 300,000 people. The Awards Ceremony was held in Madrid, Spain. For more information on the IWEC Foundation and to submit a nomination for the 2023 Award, visit https://www.iwecfoundation.org/work/past-conferences/awardees-selection/.
About IWEC
Founded in 2007 with assistance from the US Department of State, the Barcelona Chamber of Commerce, the Manhattan Chamber of Commerce (MCC), and the FICCI/FLO Chamber in New Delhi, IWEC's global network helps female entrepreneurs attain or expand their global presence by providing entrepreneurial empowerment in the form of visibility, education, connections, and market intelligence. Headquartered in New York City, IWEC now works in concert with at least 50 international chambers of commerce and women's business organizations. Learn more at https://www.iwecfoundation.org/.
About Rapport International
With offices in Boston, MA and Lincoln, NE, and clients around the world, Rapport International specializes in multilingual communications, providing written language translation and spoken interpretation services that are accurate and culturally appropriate. We use the right voice and the correct terminology to avoid liability, customize services to your needs, and deliver on time and within your budget. With our 100% satisfaction guarantee, you can trust that it's done right.
CONTACT:
Lisa Rea, Media Relations
lisa@rapportintl.com
+1-978-443-2540 x103