Laurent Kahl is an International Export/Import Consultant at the University of Georgia (UGA) Small Business Development Center (SBDC) and a valued guest on The Global Marketing Show podcast. With years of experience as an export manager, export consultant, and international sales expert, he has many connections around the world – in a recent, repeat appearance on our podcast he delves into the resources available to anyone looking to conduct business across borders, information so practical and effective that we also present it here, to reach the widest audience possible.
These free resources exist because the US imports so much more than it exports, so the balance of trade is perpetually off balance; by supporting companies that export, the state and Federal government help to mitigate the imbalance for a healthier economy.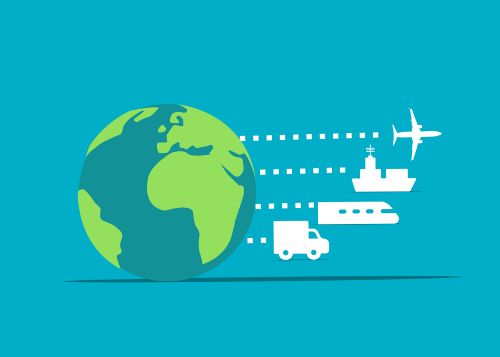 Exporting Companies Realize Higher Revenue
By the numbers, despite the clear benefits of trading internationally less than 5% of America's 30 million companies export. That tiny percentage of businesses that export did so to the tune of $1.5 billion in 2021, so why the disconnect? Data shows that 39% say their goods are "not exportable" and 37% "don't know how to start."
On the flip side, internationally 93% of small businesses export to an average of 13 to 35 marketplaces worldwide. A newcomer to the arena, India is notable for its initial 58% of small business sales via cross-border trade. In fact, the Economic Times reported in July, 2023 that "small businesses from emerging economies are excelling in international trade, outperforming advanced market counterparts and net exporters."
US companies who don't know where to start should turn first to a US Export Assistance Center (USEAC), Laurent advises. With offices in every state supported by the SBDC, USEACs help small companies:
The agency focuses on areas required for small business growth and expansion, management improvement, increased productivity, and innovation. In addition, USEACs will often maintain an international office to better connect small businesses with in-country distributors, partners, and service providers.
Navigating the Wealth of Exporting Resources
USEAC and SBDC export specialists are experienced, enthusiastic, and committed to helping businesses grow. With access to extensive databases for research, the agencies also employ interns and professors for market research. Laurent is passionate about the support the SBDC and other agencies can offer: "The specialists sit at the center of all the support and information you can access," he says. "And I've heard from other state trade specialists that they don't want to waste their funding on advertising the programs because they want to give the grants straight to the businesses who will benefit."
Visit the Small Business Development Center's website to learn more, or read our blog, US Small Business Association STEP Grant Initiative, to find your local trade representative and access STEP Grants. Federally subsidized STEP Grants aim to increase the number of small businesses that export; they are awarded at the state level so local businesses receive more immediate, personalized support. In 2018, individual awards neared an average $570,000 and the program distributed $60 million throughout 2018 and 2019, while supporting each individual business.
The next place to visit is the US Department of Commerce (DOC) to find your local International Trade Representative. With an office in every state, these representatives work closely with the USEACs and provide services such as:
Embassies and consulates fall under the DOC and can assist with market entry. Contact the US Embassy's commercial attaché for help with business expansion and contact the consulate for personal help with travel, visas, documentation, and passports.
Additional Support for New Exporters
In addition to government resources, rely on the global network of suppliers and associations with experts in every country, providing any specialty services you might need. For example:
Soft Land Partners is a global network of professionals and organizations that specializes in helping international companies successfully enter and scale across new countries and markets. Laurent and our President Wendy Pease met in a virtual networking event hosted by Soft Land Partners – check out its Universal Internationalization Readiness Checklist to see if your business is ready to expand internationally or needs to first address gaps in preparedness.
Women Entrepreneurs Grow Global (WEGG) educates, inspires, and nurtures women business owners and entrepreneurs worldwide. The supportive community offers a "wegginars" podcast, learning cohorts, mentorship, and a pool of specialists, all aimed at furthering global business growth.
NASBITE (formerly the National Association of Small Business International Trade Educators) sets standards for global business education, trade credentialing, and training. The group's Certified Global Business Professional (CGBP) credential is widely recognized and essential to export advisor certification. Also join them at their annual conference, where exporters gather.
Export-U delivers the training you need to make export sales profitable. Webinars show you how to find and sell to the best export markets for your goods and its Exporter's Resource Database offers a wealth of trade information to help you succeed in exporting. Learn more about Export-U's offerings in our blog, US Commercial Service: "Export Experts" Can Take You Global.
Getting to Global builds and deploys innovative technology solutions and programs that heighten the impact of economic development, trade, and investment organizations around the world. The group works with the US DOC – and Rapport International – to facilitate Gold Key Services, pre-screened appointments with overseas agents, distributors, sales representatives, business partners, and other local entities in-country, prior to trade missions. Rapport International acts as a Getting to Global language services partner, providing translation and interpretation for meeting preparation, documents, and virtual meetings.
Global Chamber® is a privately held organization connecting global executives and leaders in various metro regions around the world, with the goal of accelerating cross-border trade and investments. The group hosts meetups across the globe.
International Executive Resource Group (IERG) requires that its members have lived or worked abroad. Join the group for in-person and virtual gatherings for networking and learning.
Local Country Chambers of Commerce organize events and gather to connect local businesses with people around the world. It's a good place to make connections and get advice. For example, CCI France International maintains 119 chambers throughout 94 countries, dedicated to supporting French companies internationally while attracting industry to the country. Some additional groups include:
Here in the US, search online for "[your area of interest] American Chamber [your local city]" to find the proper local industry-specific contact. For example, "biotech American Chamber Boston MA" brings you to the Greater Boston Chamber of Commerce Biotechnology page.
The World Trade Centers Association maintains offices in most major metropolitan areas, supplying businesses with access to international trade services and facilities. Its mission is to simplify and stimulate trade by bringing together government agencies and companies ready for global expansion.
Books for Exporters
Exporting: The Definitive Guide to Selling Abroad Profitably by Laurel J. Delaney
The Language of Global Marketing by Wendy MacKenzie Pease
The Accidental Business Nomad by Kyle D. Hegarty
Global Dexterity by Andy Molinsky
Growing Global, Lessons for the New Enterprise presented by the Center for Global Enterprise
Global Content Marketing by Pam Didner
Podcasts About Exporting
The Global Marketing Show, hosted by Wendy, can be found on all your favorite podcast listening apps.
QRCA VIEWS, hosted by Mike Carlon
The Marketing Book Podcast, hosted by Douglass Burdett
Leadership in Action, hosted by Mark Stiles of the Entrepreneurs' Organization (EO)
Service Providers for Exporters
Service providers are a great place to find resources and a supportive network. Call on a trusted provider in any of the areas listed below to find other high-quality services.
Banks such as the Export-Import Bank of the United States (EXIM), the official export credit agency of the US.
Final Advice for Exporters
Laurent's final, sage advice: "Always be thinking about exporting! The advantages are huge – you offset a domestic home market, find new customers, get unexpected new ideas, discover product improvements, employ more people, and beat your competitors!"
Rapport International specializes in multilingual communications, providing language translation and interpretation services that are accurate and culturally appropriate. We use the right voice and the correct terminology to avoid liability, customize services to your needs, and deliver on time and within your budget. With our 100% satisfaction guarantee, you can trust that it's done right. Contact us today if you would like more information or to get a free quote.