Global businesses outperform domestic competitors on every measure!
Global businesses enjoy higher revenues and growth by accessing international sales and profits. They have larger workforces with higher wages. They are more diverse which leads to more innovation because different cultures and points of view contribute insights to their strategy development and planning. And they enjoy less risk because they're spread across multiple markets which means when one economy is in a down-swing, another may be on the rise, this balances economic impact. Any business has a huge opportunity to enjoy these perks by taking their business global.
As mentioned above, one of the perks of a successful international business is a larger, more diverse workforce. Growth will lead to the need to hire staff either in-country or bilingual staff here to scale operations into the new markets. As more languages and cultures are introduced into a workforce, issues can arise: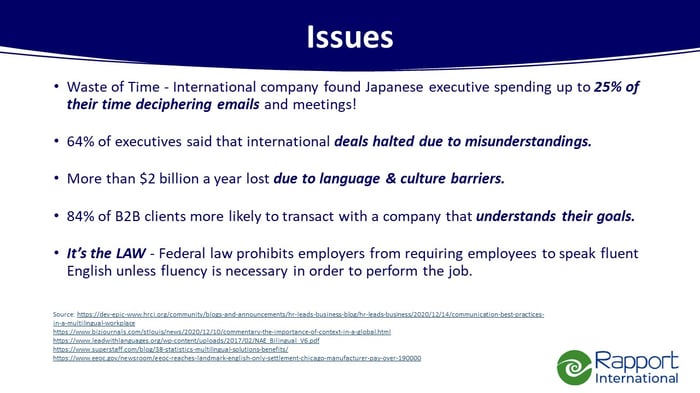 With the proper planning these types of situations can be avoided.
Watch the webinar Becoming an Employer of Choice to learn about attracting and retaining a diverse workforce.