It's rampant across the country – manufacturing companies struggling to find good and loyal employees. Recently, I had the absolute joy to visit Boston Centerless, a manufacturing company based in Woburn, MA. With a mission of precision and quality. they specialize in making perfectly round rods out of different types of metals for medical devices, dental implants, automotive parts, aerospace materials. Other manufacturers may be able to make metal round rods, yet Boston Centerless makes them perfectly smooth and straight. "Centerless" refers to a manufacturing process that they mastered, thus their name "Boston Centerless".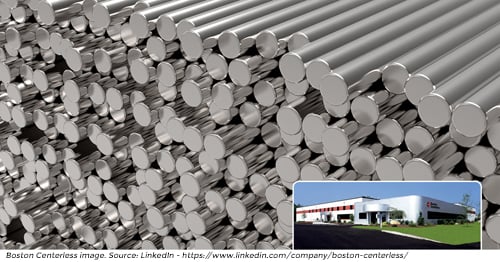 As with other manufacturers, they struggled to find qualified employees until they realized an untapped resource – non-English or limited-English proficiency (LEP) speakers. By looking at and engaging with these potential employees, they built a model manufacturing plant that now serves as an example for other companies.
Let's look at what they've done.
Hiring a Diverse Workforce – Tapping into Available Resources
Once they hired a few people that spoke Vietnamese and performed excellent work, they asked the employees for referrals to others that might be interested in working. Spouses, siblings and cousins started applying because Boston Centerless offers good wages, benefits, training and welcoming culture. Since this recruitment effort was so successful, the human resource department set up an employee referral reward program to encourage current employees to refer more of their friends and family.
To find even more employees and make the process easier, the marketing department set up a translated application online and translated an informational flyer with a QR code to send applicants directly to a website page that includes an in-language video about the benefits of working at Boston Centerless. The translated content clearly outlines the benefits of working for the company and how to apply and demonstrates its commitment to inclusion.
Additionally, the company attended job fairs in areas where non-English or LEP speakers live. While there, they handed out the translated fliers. It's not hard to imagine that these job seekers felt welcome to apply to a company that provided information in their native language.
In-Language On-boarding and Training to Maximize Learning
New-hire training for all new employees focuses on quality. Since the company does a unique, proprietary manufacturing process, there is no one coming from competitors or schools with prior experience. All new employees must be trained from the beginning. Trainers focus on accuracy, quality, measurements and the process. Bilingual supervisors do the training, so they know the person understands the process and metrics. New employees who can't to do the necessary math or follow the detailed process, won't last. Assessment during the trial period is specific to ability, not to speaking English or being in a clique.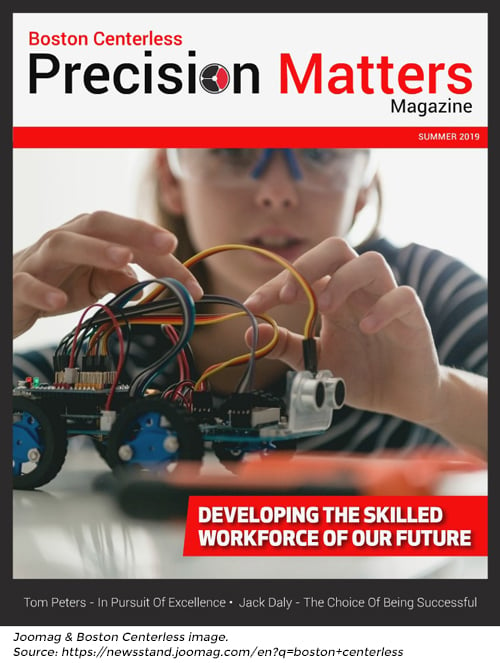 Inclusive Multilingual Communication Keeps Everyone Informed
All of the company's supervisors are bilingual in either Vietnamese, Cambodian, or Spanish. Since people who speak these languages live close by, these languages naturally became the company's primary languages along with English. With the success of their recruitment efforts in finding more employees, they also found the people they hired to be very hard workers. In the beginning, focusing on hiring limited and non-English speakers was not by plan. Now, with the success and the momentum they've built, Boston Centerless regularly focuses on hiring people in these communities and they adapt their company communications to speak to all their employees in their native languages. Here are some examples: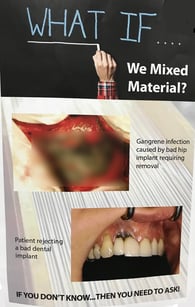 For employee meetings, a supervisor will sit with the group of LEP employees and interpret. The managers allow extra time for communication across languages.
During reviews or performance issues, a bilingual supervisor sits in with the general manager to make sure the information is clear for the LEP employee.
Signs around the production floor have pictures to support their message. For example, to remind people of the importance of precision and accuracy, they have pictures of legs with gangrene because the implants were made with the wrong materials (NOT by Boston Centerless). Or pictures of an infected mouth because of the same issue. The posters reinforce the mission of precision and quality and focus on making sure the end client gets exactly what they need. All language speakers understand the meaning of these gruesome pictures.
Weekly and monthly performance metrics show graphs, so people can see the information visually rather than having to read it.
Every so often, Boston Centerless offers both beginner and intermediate level English classes that are open to all employees. The classes are twice a week for six months, are scheduled between shifts and employees are paid for the time to take the class. It's a win-win benefit for the employees and the company. To pay for the ESL instructors, Boston Centerless applied for and won a Massachusetts Workforce Training Grant (http://workforcetrainingfund.org/).
Company-Wide Focus on Quality and Continuous Improvement
The company's focus on quality and precision is apparent throughout the organization. On the shop floor, I saw many large machines running with oil, hot temperatures, overflow coolant containers and non-stop production. Yet, I saw no oil or other spills on the floor, there were clearly marked pedestrian passageways, and superior organization and cleanliness throughout.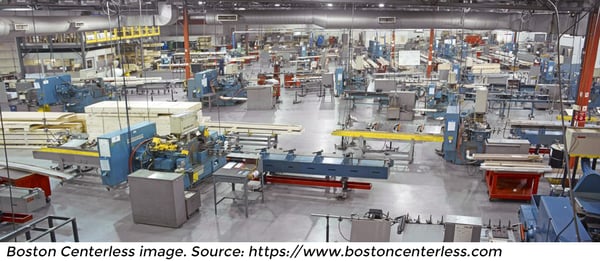 To achieve this, managers and employees stay focused on quality from training to product delivery to clients. Ways that they do this include:
Weekly audits – Performed to check compliance with expectations. If an internal inspector notices anything off, it's marked and immediately fixed. If it happens a second time, then there are remedial actions taken. Supervisors communicate any corrections to their teams in their native language(s) for optimal understanding.
Centralized idea board – When employees have a suggestion, they post it to the idea board. If a person doesn't speak English, they can ask their supervisor to translate and write it for them. Good ideas are moved to a "to be implemented section" and then they progress to an "implemented" section. This keeps the focus of every employee on continuous improvement.
Client visit ready – All the employees focus on keeping the floor ready for client visits at any time. They pick up, clean, put oil pails under machines and keep organized – whatever it takes to keep the facility looking picture perfect. This benefits the company in winning clients and keeping employees safe.
End-user focus – Even though Boston Centerless produces perfectly round rods that don't seem very exciting, not grinding them exactly or using the wrong materials can have a horrible effect on the end-user. Employees understand the purpose of each rod, who the client is, and the graphic pictures remind them of the importance of precision to the final recipient. This knowledge reminds everyone why quality and precision manufacturing is important.
Quality lab – Next to the production floor, with big windows to watch the floor, the quality department watches manufacturing and does the final check on all processes and products. All employees know this and want everything to be perfect.
Certification – All components ready to leave the facility need to have a certification. The quality department reviews the specifications and checks the parts. Once deemed perfect, the quality inspector certifies the products for release.
Employee empowerment – Everyone is encouraged to check quality on their own. They can measure, use the electronic "gun" to check for accurate materials or run materials through the highly sensitive quality inspection machine. This usually has an extra charge for clients, yet if an employee deems it necessary, they can ask for it.
All these steps are just standard operating procedure. All employees understand the process without having to discuss it in any language.
Unifying a Corporate Culture Based on Community, Growth, Values and Quality
When a company focuses on activities to build community and support personal growth toward the goal of delivering quality products, the community will rally together towards a common goal.
At Boston Centerless, they focus on team building and performance expectations. To build team unity, they have an employee picture board on the floor with pictures and names of every employee. By including everyone, it shows the value of every team member from top to bottom. This way everyone is recognizable and part of the company community. Retired employees with over 20 years of service earn a spot at the top of the board. This is a great way to recognize individuals and build a sense of community. Plus, just by looking at the board, you can see that the company embraces diversity.
In another section, there is a training board to track who trained in each part of the manufacturing process. It's a large whiteboard that is sectioned off like a spreadsheet. Each employee is listed in the first column. Across the top, all phases of the production line are listed by department. There are 10 departments with at least 5 stages in each department. This gives employees plenty of opportunities and incentives to cross-train in every department at every stage. Also, there are three levels of training (tracked by colored magnets). This is a great visual way to see trained employees and how proficient they are in each area. It's a clear and open way to track capabilities for experience, raises, and staffing that limits discrimination, subjective judgment and favoritism.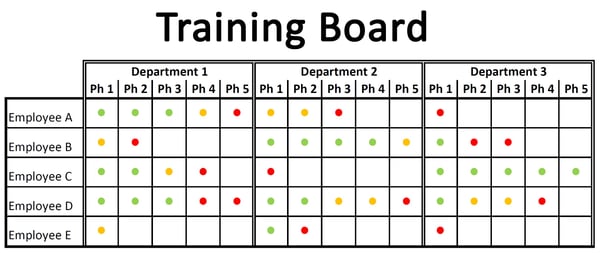 The company's thoughtfully considered values hang from the ceiling on banners throughout the facility. Employees are encouraged to live by the TITE values that reinforce the community mindset and focus on quality:
Team First
Take Initiative
Trustworthy
Demonstrate Excellence
It's a reminder of what to focus on each day.
In addition to the values, flags also display the quality certifications obtained by Boston Centerless – ISO 9001, ASA 100, Nadcap, ISO 13485, etc. To get and maintain these certifications takes detailed attention to production processes and quality. Another reminder to employees to focus on "zero defects".
Celebrating Diversity to Promote Employee Satisfaction and Loyalty
To celebrate the diversity of the team, each employee can see their country flag hanging near the entrance. As employees from new countries come onboard, the company adds their countries' flags. If no one from that country works there anymore, they take the flag down. Currently, 11 flags are hanging there. All countries have a place of recognition at this company.
Other ways Boston Centerless celebrates diversity:
During the Thanksgiving potluck employees bring food from their native countries. The manager said that once you've had home-cooked Chinese food, you will never want to go to a restaurant again! Employees love sharing and tasting the varied cuisine of their fellow team members. It's a popular event.
The summer barbecue party, held in the parking lot on a Friday afternoon when the plant is closed, is a favorite of employees. The company provides food at different food stations and from a hot grill.
In December, the company closes on another Friday afternoon and rents a hall for the holiday party. Again, the company treats. It's for employees only, yet, since the company has a generous employee referral program, many family members and friends work together and get to celebrate together. Since the plant runs two shifts, they close during a time when both shifts would be able to overlap at the parties. This is a good way to bring employees together to bond and develop relationships.
Recognition Awards to Celebrate Accomplishments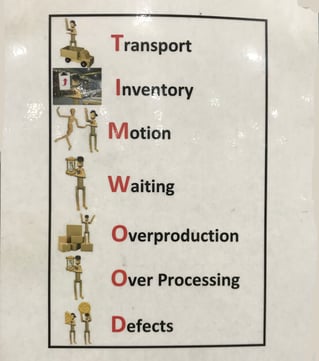 Along with a culture that celebrates diversity, inclusion and quality, the company has recognition programs to award individual employees. The Golden
Bar Award (perfect name since the company makes perfectly round bars of all sizes), goes to an employee who goes above and beyond in servicing the client. For example, one employee wasn't 100% sure that the bars they sent out to a client were the right substances, so he took the initiative to go to the client's facility with the "materials gun" to shoot at the bars to see what substances the bars contained. The employee got his name on the
Golden Bar Recognition plaque and $20 in Boston Centerless Bucks that could be used for buying company-branded hats, shirts and jackets.
To recognize a division's team performance, the company has "TimWood", a wooden mannequin (on wheels) that announces completion of a job and the metrics for the project. He got his name from these initials:
T

ransport

Inventory
Motion
Waiting
Overproduction
Over Processing
Defects
The name recognizes all the areas that the employees monitor during the manufacturing process.
He stands about four feet tall and changes clothes depending on the season – he has a locker full of Patriots, Bruins, Red Sox and Santa clothing. He celebrates "continuous improvement" and shows efficiency, accuracy and cost savings. Before the general manager moves TimWood to celebrate the completion of a project, managers review the numbers for accuracy in the monthly meeting and then announce them at the quarterly whole company meeting. Then, TimWood moves to stand proudly in the area of the team that completed the project. In his hand, he holds a placard displaying the metrics of the job. He's turned into a real company mascot! Even employees who can't read or Speak English, know what TimWood symbolizes and can read the numbers on the sheet. It's a great way to celebrate completions.
Building on Programs and Processes to Move Forward and Grow
Since Boston Centerless focuses on continuous improvement, they have plans on more ways to attract and retain non-English speakers.
Employee referral program – since Vietnamese, Cambodian and Spanish speaking employees work so well in the company and many live close-by, Boston Centerless encourages employees to refer their friends and family members. They are awarded a cash bonus for each referral and they get to work with people they know.
Recruitment – the human resources department hired Rapport International to translate a recruitment flier with information about the company. The QR code on the flier directs people to a web page that has an in-language video about the benefits of working for Boston Centerless. It talks about a generous salary, benefits, room for advancement, English classes and employee engagement. It's a huge differentiator to provide translated content to immigrant job seekers, even if they speak English. It shows a commitment to having a welcoming work environment. Boston Centerless plans on distributing the fliers at job fairs in communities with large immigrant populations and at specific churches where the congregations speak these languages.
Screening – the type of person that succeeds at the company loves process, accuracy, perfection and teamwork. Hiring managers screen for these qualities to find people that will succeed. In addition to a personal referral, an interview with a manager, and looking at prior experience, job applicants complete a translated screening tool to see if the person has the personality to do the work.
Marketing – Since Boston Centerless specializes in a unique manufacturing process that is in demand around the world, they have global business. With their understanding of multilingual communications and cultural integration here in their manufacturing plant, they are considering the next steps for expansion into new markets. This would entail translating their website to increase global inbound leads and targeting specific prospects in those countries.
Further communications – As they release translated materials for recruitment, they plan to leverage these completed translations for employee communications. For example, the recruitment flier will be available in the break room for employees to pass out to friends and family. The translated mission, vision and values will be used on the website and floor posters. The in-language videos will be played on the screens around the shop floor to reinforce the Boston Centerless culture of community, inclusion and quality.
Process documentation and training materials – Managers spend generous amounts of time in training new employees and making sure each person understands the process before allowing anyone to work alone. Currently, the processes and training materials are all in English with reminder picture signs. This has worked well for the company because they take plenty of time to train at the beginning. Eventually, they plan on translating the materials, so they are accessible to all.
Boston Centerless Words of Wisdom
When asked about recommendations for other companies about to take on a "Bilingual Manufacturing" initiative, there are a few recommendations the owner would make.
A head nod in different cultures may not have the same meaning. Make sure supervisors or managers understand the culture enough to know when someone really gets it versus nodding in polite agreement.
Miscommunication can happen without someone who understands the language and culture. Make sure to have managers and supervisors that can serve as language facilitators and cultural brokers.
If all your managers are one race and all your workers are another, this may cause a chasm and a disconnect. Look to promote based on ability and objective measures to truly make your company culturally welcoming and inclusive.
Make sure new employees have the basic skills to do the job. At Boston Centerless, everyone needs to have math skills to monitor quality. Check for this before hiring.
Focus on the numbers to avoid mistakes, miscommunication and disagreements. The numbers can be understood, trained and rewarded if the information is accessible and presented clearly across languages.
Build a culture based on your company mission and values. If there isn't a focus, people will get sloppy or not know expectations.
Communicate in all languages. If you don't have internal employees who can facilitate multilingual communications yet, hire experts. It's worth, it in the long run, to hire in-person interpreters or telephone interpreters to assist until you have reliable staff who can bridge the communication gap.
Encourage teamwork – there's natural peer pressure to work hard to achieve the goals. Employees don't want to work with a teammate that will drag them down.
Reward trustworthiness – bottom line if you trust your employees, you know the job will get done right.
Screen employees and train them well. Just hiring non-English speakers will not be enough. You must have a plan to help them succeed.
Diversity & Inclusion: A Prime Example of What Works
Boston Centerless is a perfect example of how to recruit and retain a diverse workforce. The culture is inclusive and celebratory. Individuals and teams are recognized. The effort pays off.
The company's successes:
A very loyal workforce – there are many pictures of retired employees that worked for the firm for well over 20 years. Over half the workforce has been there for over 5 years. Employees appreciate the opportunities available to them, and an inclusive culture that focuses on quality and continuous improvement.
Appreciative staff – Educated immigrants in the US who don't speak English find limitations in job prospects. Boston Centerless offers engaging work with lots of opportunities for learning and growth. Employees appreciate the opportunity and warm culture.
Fully staffed (almost) – in an economy where manufacturers struggle to find employees, Boston Centerless has limited open positions.
Model factory – Other factory owners tour the Boston Centerless facility because they are known to be an effective factory – in hiring, training, cleanliness, employee retention and productivity. It makes people proud to work there.
Higher salaries – clients pay a premium for Boston Centerless' work, so that allows the company to pay a premium on wages.
Long term success – the company just celebrated 60 years in business and is going strong.
Rapport International has loved working with Boston Centerless to help them meet their goals for moving forward with their initiatives and programs. I'm so happy that they invited me to visit their facility. It was fascinating and a joy to visit and learn about their manufacturing process and their success in building a diverse and loyal workforce. It's great to see how thoughtful and inclusive the management has been on building the culture. They deserve all the success they get.