When you need to communicate with a client, patient, staff member, etc. in a cross cultural context - look to using a professional interpreting services company.
Here are some practical tips for working effectively with an interpreter.
Plan Ahead - Meet with the Interpreter
It is always a good idea to meet with the interpreter before the session to discuss briefly what you will be talking about.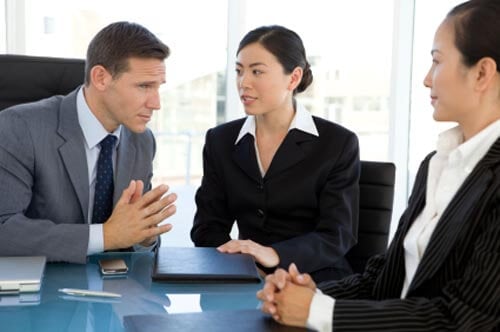 Connect - By Speaking Directly to the Client or Patient
Talk to the patient or client directly, and not to the interpreter. Instead of saying: "Ask her what her birthday is", directly ask a non-English speaker using first-person language: "When is your birthday?" A non-English speaker may understand more English than he/she can express. Vocal intonations, facial expressions and body language still convey a great deal of information regardless of language barrier.
Be Attentive - Make Eye Contact
Make eye contact with the patient or client, not the interpreter, and maintain it at all times. Also, speak clearly and distinctly so that the interpreter can understand you.
Don't Rush - Pause for Interpretation
Do not forget to pause after 3-4 sentences to give the interpreter an opportunity to interpret what you have just said. The more you speak without giving the interpreter a moment to interpret, the greater is the chance that the interpreter will miss some important details.
Respect - Consider Cultural Differences
When hiring an interpreter for an interpreting session, be sensitive to cultural and/or religious differences. Consider the situation and the non-English speaker, when deciding whether a male of female interpreter would be appropriate for an interpreting session. In some cultures female interpreters might not feel comfortable interpreting for male clients.

Make Time - Schedule Longer Appointments
Be patient and schedule time appropriately. Interpreting will take longer than speaking directly to an English-speaking client or patient. Think about it as if you need to say everything twice, therefore the amount of time scheduled for the appointment should reflect this, or leave time in between appointments in case it runs over.
Learn more about Using Interpreting Services.
Professionals - Use Trained Professionals for Best Interpretations
Only trained professional interpreters from an interpreting service or telephone interpreters should be interpreting for you. For the best results, you should never use the following people as interpreters: untrained staff, family and friends, children under 18 years old, other patients, clients or visitors, and volunteers. Read more in our blog Using a Professional Interpreter Vs Staff or a Family Member.
There are additional considerations when you need to communicate with non-English speaking staff, read more about best practices for managing a diverse, multilingual workforce.
Rapport International specializes in multilingual communications, providing language translation and interpretation services that are accurate and culturally appropriate. We use the right voice and the correct terminology to avoid liability, customize services to your needs, and deliver on time and within your budget. With our 100% satisfaction guarantee, you can trust that it's done right. Contact us today if you would like more information or to get a free quote.