Essential to every globalization strategy are research and in-depth knowledge of in-country requirements and cultural leanings. A successful strategy relies on a comprehensive translation management plan as a guide, one designed not only to facilitate communication but to ensure legal conformity to in-country rules and regulations, earn consumer trust, and generate a repeatable process for rollout into other countries.
Translated content and collateral comprise a substantial portion of any translation management plan, from sales to customer service, from manufacture to distribution. Translation requirements vary according to the type of content at hand – a marketing piece must deliver the appropriate message rather than just the right words, for example, and takes colors and images into consideration; a user guide requires consistency of specific words and phrases; and, most importantly, cautionary and warning labels and inserts must meet exacting safety regulations. A high-quality translation services agency understands these nuances and, at the same time, prioritizes translation requirements to create a straightforward process.
Here we examine CE marking, the European Union's (EU's) standardized importing protocol, using it as an example of how Rapport International and other quality language service providers help companies build a translation management plan around their most important task: ensuring product safety for its consumers. Distilling the process into a step-by-step, consumable to-do list makes the process less daunting, and knowing where to find the proper resources means duplicating the process in other countries, as well as for other aspects of your globalization strategy.
Official Languages of the European Union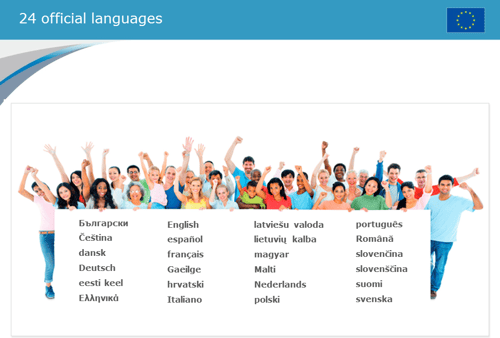 Source: http://euap.hkbu.edu.hk/youngeurope/en/2015/08/05/multilingualism-in-europe/
What is CE Marking?
Importing into the US requires the disclosure of container contents and its country of origin. For distribution, the Fair Packaging and Labeling Act requires labeling to disclose "net contents, identity of commodity, and name and place of business of the product's manufacturer, packer, or distributor." Additional requirements can be assigned by other governmental agencies – the Food & Drug Administration (FDA), the Environmental Protection Agency (EPA), the Consumer Product Safety Commission (CPSC) – as well as by individual states.
Similarly, Conformité Européenne (CE; French for "European Conformity") marking originated in 1993 to add to the New Approach Directives of 1985, directives designed to streamline product approvals and stimulate free trade within the EU. Sometimes referred to as a European Trade Passport, CE marking allows manufacturers free trade on a level playing field throughout the European single market. An estimated 70% of consumer goods require the designation and the over 20 regulated product groups run the gamut, from Toys and Hot Water Boilers to Manufacturing and Medical Devices, as designated by the European Commission. Interestingly, applying the mark to a non-regulated product constitutes deception.
CE marking certifies that a product conforms to EU requirements for safety, health, and environmental protection. It is interesting to note that the CE marking does not guarantee or attest to a product's safety so much as assure that it meets all the EU requirements of safety testing and documentation. According to the European Commission's (EC's) website:
"Please note that a CE marking does not indicate that a product have [sic] been approved as safe by the EU or by another authority. It does not indicate the origin of a product either."
Yet the harmonized standards to which these countries adhere are designed to ensure consumer safety; a combined 31 countries within the EU and European Free Trade Association (EFTA) currently require CE marking, in 24 languages. (Great Britain will migrate to UKCA marking as of January, 2023.) CE marking also indicates that appropriate technical documentation around the use of the mark is available, in the official language or languages of each country, and can be provided by the manufacturer, distributor, or other party responsible for product placement within the EU.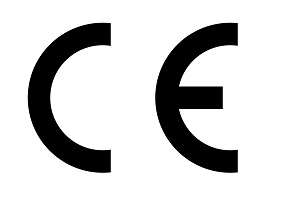 STEP 1: FIND A HIGH-QUALITY TRANSLATION SERVICES PROVIDER
Who Is Responsible for CE Marking?
The rise of Amazon, Alibaba, and other distribution giants inspired the popularity of private labeling, the repackaging of factory product with modified labels. The US and EU here diverge: where the US requires only an agreement between parties and certification of the product's authenticity, the EU sees a substantial transfer of responsibility to the distributing party.
For exporters. Manufacturers exporting to the EU single market are solely responsible for CE marking, except in the case of private labeling by importers or distributors. In the latter case, all parties assume some measure of responsibility for liability and ongoing testing. It is vitally important to note, however, that any liability stemming from mistranslations remains with the manufacturer.
For importers and distributors. As in the US, if an in-country private labeler or end-user modifies the product itself to the extent it can be considered a new product, that entity would reasonably be held jointly responsible for meeting regulatory requirements. Unlike the US, however, the same holds true for private labeling with CE marking; the importer or distributor becomes the legal manufacturer. That entity must then be able to verify that original manufacturing was compliant with CE marking standards, contact with the manufacturer is available at any time, and proper business, safety, and technical documentation can be provided in the country's official language. Ongoing product testing – batch testing for quality, for example – is also transferred.
Manufacturers are advised to consult with the appointed Competent Authority in each country, regulatory agents that assist with anything from a list of official languages and in-country organizations supporting networking and growth to labs authorized by the European Notified Body for CE marking testing and certification and the parties responsible for said testing and attendant liabilities.
STEP 2: DETERMINE LIABILITY AND CONSULT WITH THE COMPETENT AUTHORITY IN TARGET COUNTRY
What are the steps for affixing CE marking to your product?
Certain products require third-party assessment by a recognized Notified Body for CE marking, generally ones deemed too dangerous for self-certification without input from a third-party. Others may require conformance to more than one directive. Such products will be indicated when determining the applicable directive for your product. The six-step process is outlined on the European Commission's website:
Find the applicable directive (legislation)
Determine the essential requirements in the directive (usually Annex I)
Note the harmonized European EN standards
Choose the appropriate conformity assessment module as described in the directive's annexes
Locate Notified Bodies (accredited test laboratories) – if required!
Create a Technical File and Declaration of Conformity and apply CE marking
(See Resources, below.)


Many directives allow for self-certification; companies self-evaluate to determine whether to shoulder the risk. And in the US, the International Trade Administration recommends that even companies comfortable with self-certification enlist a Notified Body lab to test and confirm that its product has met the essential requirements of the applicable Directive.
STEP 3: PRIORITIZE DOCUMENTATION FOR TRANSLATION
What are the translation requirements?
Documentation related to CE marking must be in the official language(s) of each country in which the product is offered, as mandatory process. Your translation services agency can prioritize the documentation in order of importance and time it to coincide with the requirements of the CE marking process. Translation is always required for
and typically, also for:
select content and material related to safety, and
Specific product groups require additional translation. For example, electrical, electromechanical, and mechanical products also require the translation of:
the Declaration of Conformity,

operations and maintenance manuals,

technical files, and,

instructions of use for machinery.
Market surveillance authorities (MSAs) monitor and enforce CE marking requirements, and complaints or inquiries can come from random inspections, customers, competitors, government agents, or stem from accident investigations, among other sources. Starting in 2003, the European Commission's Rapid Alert System has also facilitated prompt communication among all Member States regarding unsafe products, so individuals, businesses, and online marketplaces also play a part.
MSAs are country-specific and, like the US, are often divided into subgroups relevant to a particular industry or product type. Disciplinary action varies, but in general, failing to rectify a known issue could result in product recalls, prohibitions, fines, or imprisonment. In any country, failure to comply generates an investigation response from a regulatory body, including the failure to translate essential information. For example, incomplete translation of a single document for a machine sold in Germany renders the product defective.
Interestingly, there are implications in non-CE marking countries as well. In early 2000, a US-based manufacturer sold slightly different versions of the same machine into the EU and US markets; the US machine ignored CE marking requirements around a particular safety feature, resulting in critical injury to a factory employee. The employee received the largest punitive damage award in the state's history because the manufacturer knowingly eschewed CE marking requirements for its domestic output.
STEP 4: TRANSLATE RIGHT THE FIRST TIME
First and foremost, a high-quality translation company will stay abreast of the ever-changing requirements involved with exporting. For example, the EU Medical Device Regulation (EU MDR), first established in 2017, became mandatory as of May, 2020 and completely replaces the previous directive. In May of 2025, any medical devices certified under the old directive can no longer be sold or distributed. In addition:
Translation will be required for all 24 languages;
Certain documents now require translation prior to CE marking;
Additional documentation and labeling must be translated; and,
Translated data will be stored in a central EUDAMED database so data can be cross-referenced in all languages, so it will be essential that language services companies utilize translation management systems.
Secondly, a high-quality language service provider will also keep track of regulations by country, especially with regard to anomalies; Belgium, for example, requires that patient consent forms for clinical trials be in the national language of the patient, where other countries require only an English translation.
Thirdly, a quality translation service will always keep documentation current for CE marking and other regulatory requirements.
In addition, getting it right the first time requires:
Translations from only clear and precise, finalized, original copy,

Use of well-established symbols and icons, and

Use of in-country reviewers.
STEP 5: REPEAT STEPS ONE THROUGH FOUR
That simple approach – of using a translation management plan as a guide for exporting – can guide other aspects of a business as well, at every step of a globalization strategy, including:
Rapport International specializes in multilingual communications, providing language translation and interpretation services that are accurate and culturally appropriate. We use the right voice and the correct terminology to avoid liability, customize services to your needs, and deliver on time and within your budget. With our 100% satisfaction guarantee, you can trust that it's done right. Contact us today if you would like more information or to get a free quote.
European Commission Resources:
About CE Marking (https://ec.europa.eu/growth/single-market/ce-marking_en)
Competent Authorities by Country (https://ec.europa.eu/growth/single-market/ce-marking/ce-marking-your-country_en)
Applicable Directives (https://ec.europa.eu/growth/single-market/ce-marking/manufacturers_en)
Harmonized Standards (https://ec.europa.eu/growth/single-market/european-standards/harmonised-standards_en)
Notified Bodies (https://ec.europa.eu/growth/tools-databases/nando/index.cfm?fuseaction=country.main)
Declaration of Conformity (https://ec.europa.eu/docsroom/documents/9781/attachments/1/translations)
Resources for US Companies from Export.gov:
CE Marking (https://2016.export.gov/cemark/eg_main_017274.asp)
US Government Contacts (https://2016.export.gov/cemark/eg_main_017271.asp)