More businesses today are expanding into global markets, and that comes with new challenges. There is a fear of the unknown, different cultural norms, increased costs, handling international staff, different business practices and regulations, and most of all, different languages.
Studies show that the fear of language is one of the top obstacles keeping US businesses from targeting an international market. When trying out a new market you must make sure your material is translated correctly, the message stays the same after translation, and that it is relatable to your customers in the new market, all while keeping costs down.
So how do you decide what to translate?
We recommend you start with a Translation Management Plan, and the first step is to develop a strategy (read more about the other steps in our blog "Successful Translation Management Starts with a Plan"). Part of creating a strategy is figuring out what you need to translate to meet your goals. With a well thought out plan, you will save time, resources, and money by clearly defining what documents need to be translated to reach your goals.
Being proactive when venturing into a new market by deciding what to translate helps you plan and budget to reach your goals.

Marketing Plan Defined
Each year companies create corporate goals and then their marketing department creates a plan to help them reach those goals. If one of the goals is to enter a non-English speaking market, translation and cultural adaptation of your marketing materials and website should be included in the plan.
Even if your customers speak English, statistics show that putting in a little added effort by translating materials into their native language makes a big impact:
72% of Europeans are more likely to buy a product when information is available in their native language
56.2% said they are willing to pay more if a company provides information in their native languages
Often US companies delve into international waters by targeting other English-speaking markets. It makes sense from the point of view that they speak the same language, yet is it the best market for growth? Best practices recommend doing a market analysis to figure out the markets with the best return.
If the results of your market research shows that a non-English speaking market has higher demand and less competition than an English speaking one, it makes more sense to invest in translation and target the more fruitful market than stay in your language comfort zone where there is more competition or less demand.
Another way to delve into a foreign market is by being an "accidental exporter."

If you fall into this category, you now have a starting point for exporting your product to a new market without having to do a study to gauge interest. Start by figuring out why the customer is buying from you and then make sure that aligns with your current marketing message. Use these countries/languages and the products that attracted them to develop a framework to guide you as you enter new markets.
You can start with one product/service and increase offerings over time in a single region or you can take that one offering and offer it to other geographies. By tracking and measuring successes and interests you can figure out and work to increase demand.
Easy Answers to the Big 5 Questions
If your marketing plan does not define clearly what to translate, you can consider answering the big five questions to attract customers and/or answer the most often asked questions about your product or service.
If you hear the same question a lot, it can be inefficient and costly to spend time manually answering it over and over. It makes more sense to create content for your website, or documents you can send to potential customers, that answer these frequent questions. By taking it one step further and translating the answers to these big questions, you have a resource to send your non-English speaking prospects to save time and provide the information they are requesting in their native language.
Most companies get asked the same big 5 questions when getting inquiries. Typically, the questions are about:
When you create translated blog posts or landing pages that answer these questions, they can be viewed by all potential consumers in your target market who are seeking answers to the same questions.
Follow the Buyer's Journey
If you are in marketing or sales, you may be familiar with the buyer's journey that outlines the process your client goes through before purchasing a product. The journey begins when they realize that they have a problem, start researching, and then they move into the decision stage to solve the problem. During all the stages, the buyer is looking at different types of information.
You may want to consider translating pertinent information at each stage to give your international buyers the information they need to make an informed decision.
Attract – This is the first stage when the buyer realizes they have a problem that needs to be solved. In this stage you want to provide information that will make the buyer aware of your product/service, attract them to your website and help them research solutions to their problem. They'll be looking for blog articles, guides, and industry reports.
Engage – Once the buyer finds potential solutions, they start considering options and will need more specific information about your products/services and comparisons between you and your competitors. In this stage, they'll be looking at in-depth blogs, webinars, product feature videos, and podcasts to get more information.
Delight – With the viable options identified and investigated, the buyer will reach out to specific companies to finalize a decision. They'll want to hear case studies and testimonials about your product. This is also the stage where they'll inquire about the cost and pricing options.
Once you have engaged your buyer and they have purchased your product/service, don't forget to continue delighting them to build a long-term relationship and encourage them to share their positive experience to drive in referral business. Information that you can provide at this stage includes progress reports, updates, best practices, and new service offerings.

High Traffic Pages
Another way to help you decide what to translate is by looking at your website traffic. Translating your most visited pages will help you reach a wider audience. You can also look at translating the pages people spend the most time on as this may be an indicator that visitors are interested in the more in-depth information on those pages.
Translating your entire website can be expensive and take a lot of time. By quickly translating the most important pages, for just the product(s) of interest and supporting content on how to order, you're able to quickly meet demand and work towards a complete translation.
When you start translating your website, don't forget:
Translate CTAs (Calls to Action) to convert visitors

Translate keywords and search phrases for the target country and language

Optim

iz

e for SEO in the target country/language(s)



Test and Track
If your products sell online and you want to test new markets, you can create translated landing pages, optimize those pages, and track the results.
By translating pages that highlight particular products, then tracking online visitors' demand by product, you can increase translated product offerings as sales increase. This is a great way to test and grow a market.
4x4 Matrix
To help you prioritize what to translate to get the biggest return at the most cost-effective budget, you can use a simple 4x4 matrix.
Speak to your translation partner to help you plot out where your materials will fall in the matrix. Is it a simple, short translation that will yield a high return like packaging information? Or is it a more intensive project?
Here is an example of the cost vs. return for some general materials you may consider translating. By focusing on the lowest cost/highest return materials, you can attract and delight customers for the least investment.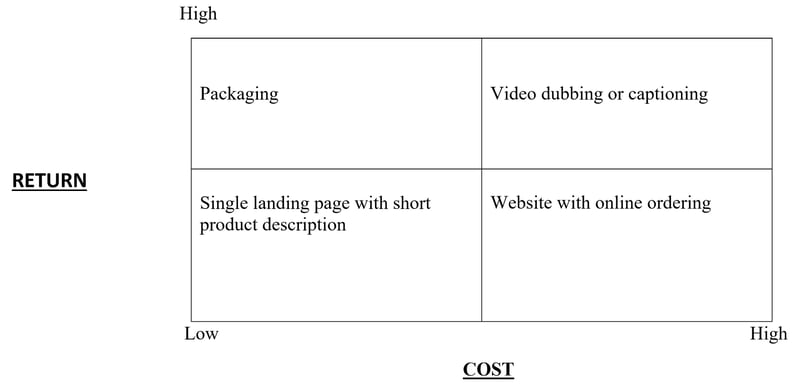 By plotting out the costs and returns of your specific translation options, you can easily see what materials you might want to translate first and create a plan for going forward once you start seeing a return on your initial investment.
Export advisors and global marketing experts say that the biggest mistakes in global marketing are (1) not building relationships and (2) not translating materials. Pick one of the options above or develop a hybrid of the ones that work for you. Just remember to keep creating and translating content to increase your online inbound sales.
Rapport International specializes in multilingual communications, providing language translation and interpretation services that are accurate and culturally appropriate. We use the right voice, correct terminology to avoid liability, customize services to your needs, and deliver on time and within your budget. And with our 100% satisfaction guarantee, you can trust that it's done right. Contact us today if you would like more information or to get a free quote.