You never know when you will encounter a business opportunity. It can be as simple as attending an international trade show and being asked to consider exporting your product or arranging a pre-show meeting with a potential customer. Just like social media, trade shows offer growing businesses a wide range of unexpected benefits and should not be discounted when considering how to expand your company's growth.
Small companies are often afraid to expand internationally, perhaps because the process seems too daunting. They avoid participating in trade shows because they don't fully appreciate the potential benefits. But there is enormous upside potential, and the US government provides fantastic support for US companies trying to expand their market reach.
Consider the inspiring story of Brooksmade Gourmet Foods, a small Georgia-based company with a passionate founder who, after investing about $100,000 in his overseas effort, secured about $10 million in business contracts! It's an incredible success story and return on investment … and it all started with a trade show.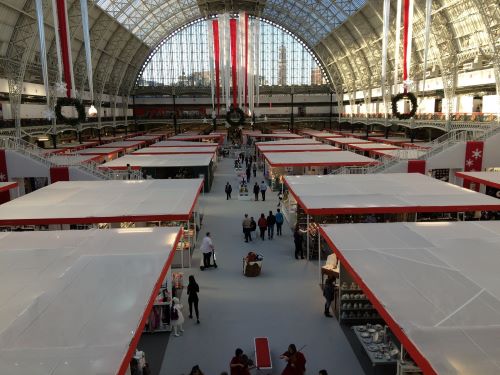 Culture Translates
Walter Brooks, President and CEO of Brooksmade Gourmet Foods, credits his success to his tenacity and hustle. He first experimented with homemade, all natural BBQ sauces, ketchups, and marinades out of his home kitchen. After starting his own restaurant and catering business, a chance encounter – crossing paths with a valued mentor in an elevator – prompted him to use his restaurant to test his own homemade sauces.
From then on, he sold products under his own brand, establishing a food company in 2004 and trademarking it in 2016; in 2021 he worked with a marketing company to focus on differentiating himself and growing sales. Starting with local trade shows, farmers markets, and word of mouth, he gradually grew the business through "personal, hand-to-hand combat sales," establishing a strong local fan base in the Atlanta area.
At a local trade show, Brooks was approached by the Georgia Department of Economic Development (GDEcD) and asked if he would consider taking his products to markets outside of the country. Brooks immediately jumped on the opportunity. "I thought that was very interesting," he recalls, "because who's asking me to do anything? I'll go where whoever needs and wants me at the time. If you're that interested, we need to talk!"
Opportunity Knocks
GDEcD works under the umbrella of the Southern United States Trade Association (SUSTA). SUSTA guided Brooks, introduced him to potential clients and opportunities, and helped him determine the best way to export. At the same time, he started working with the Small Business Development Center (SBDC) for the Georgia District on a business plan. Fully taxpayer-funded, your local SBDC office is a great place to start when considering or initiating an international effort. They will reimburse travel and startup costs and will guide a growing company through the process. For Brooks, it was an enormous advantage: "You don't know what you don't know," he says. "They helped save me so much money! They set me up with logistics, trade connections, addressed legal issues, all working with my local economic representative … it was a no-brainer for me. After banging my head against a wall and not finding real solutions, I was suddenly finding growth!"
Specifically designed to help small and mid-sized companies initiate the exporting process, the SBDC helps companies with market research, comparing brands within the existing marketplace, as well as price points, market entry strategy, and business plan creation and analysis. It's a win-win for everyone: by increasing exports into the balance of trade, the whole economy benefits by rerouting monies back into the US economy.
First Steps Toward Exporting
First, determine where you fit – are you a mid- or high-level retailer? Retail pricing may not be appropriate for novelty/gourmet products; for instance, if you're offering a high-end product that only a certain population can afford, you may need to adjust your target markets.
After determining your target markets, concentrate there. Brooks booked trade missions to specific areas, researching local markets and cultures and building relationships, with the goal of finding local distributors. These local distributors could deliver product to their retail suppliers and direct to local markets, which made more sense than the company figuring out how to distribute product independently.
An SBDC trade mission found him shipping contacts through local governments, which also made the process easier. US and local consulates provide many resources that can help with sales, marketing, and partnerships.
Trade Show = Dramatic Success
Working with the SBDC and its government contacts, Brooks was able to accomplish in two years what ordinarily would take four! By far, he adds, the best contacts he made were at the Gulfood Trade Show, the largest food show in the world. By registering his products through the trade show's system and following their onboarding process and advice, he was able to shorten the sales process by making targeted contacts. "If they like your product, they will walk you through the whole process. They really want your buyers to navigate to you," explains Brooks.
Although Brooks's first show was held during Covid he decided to go anyway, and it proved to be the right move. Serious buyers still showed up, and although the show was smaller, being the predominant food show in the world meant it was big enough. The benefit of the reduced size also meant fewer competitors. The US always hosts a large pavilion – essentially an enormous booth – of tables for small- and mid-sized businesses to display and discuss their trades. "So many regions came looking for US products and I established two relationships that really stuck out,"" Brooks recalls. "We hit it off and went to dinner. One happened to be with Warner Brothers, who was building a billion dollar theme park in the Middle East. They loved the products and wanted to use them at their theme parks and Ferrari World."
Although that discussion stalled, a chance encounter between a family member working in Dubai and the head of Warner Brothers' Food and Beverage group led to a key meeting with company leadership. From there, Brooks was inspired to again pursue the opportunity: "It's all about the relationships you cultivate. I was able to accomplish my four-year plan in two! It took a lot of work building relationships, but many of the distributors I ended up working with I met originally at that show."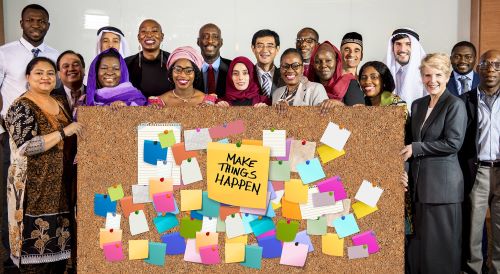 Economic Development Agency Guidance
For a small- or mid-sized business trying to break into the international market, the US Economic Development Administration (EDA) can provide outstanding benefits and guidance. They will help you choose appropriate distributors, facilitate partnerships, and analyze your market and capacity. Brooks says the EDA provided him with "enormous" assistance breaking into the Middle Eastern market: "They helped me cultivate relationships and find a few large distributors from Dubai and Saudi Arabia at that first Gulfood trade show, which developed into multi-million dollar relationships."
How does a company know that it's ready to go international? Brooks says it often relates to production capacity, not revenue. Starting out, he tried to cover domestic and international markets simultaneously, working twice as hard as necessary. After working with the SBDC he realized that, assuming a company has the capacity, a more productive strategy would be to enter the international market early – taking advantage of the supports and subsidies available – while going after the US market: "It's easier to gain market share by entering the international market this way because you're emphasizing your natural differences," says Brooks. "I'd rather go somewhere where somebody is interested in my products, and then I can deal with my domestic market later."
The process can be simple: First, determine how much you can realistically do while you grow. Don't bite off more than you can chew. You can't exactly determine how you'll grow but be honest about your capacity and your capability to deliver – hiding things will simply spoil vendor relationships over time. Second, focus on building relationships. Avoid transactional interactions and look for real, solid relationships. Creating a foundation built on trust and respect is key because without strong relationships you are bound to fail.
The same holds true with your marketing efforts. Keeping the customer's viewpoint as the focus of your marketing efforts is critical, from your website to your collateral. View your website from a user perspective, ensuring that it's user friendly and makes sense from their perspective. Most customers' initial contact with an organization is now made online so if your product information isn't online and ready, with a compelling reason to buy, they will move on.
Incorporating translation into your marketing strategy will also help you grow. Translating your website bridges language and cultural differences with your target market(s). Concurrently, your product or service is more readily available to those communities, as well as to purchasing avenues such as Amazon or Walmart, which in turn inspires new sales and brand loyalty.
The Trade Show Benefit
Being ready to provide instant information at trade shows is also key:
A potential customer needs to be able to separate the wheat from the chaff, notes Brooks. Staff cannot be rude, but they must also be efficient. The ability to be choosy and spot the right buyer is an important skill. Responding to regions and clients with the best prospects is important. Trade shows can offer great benefits if you focus on getting the most from them, harness contacts and sales. He adds:
To help, organizers now offer many new tools: badges that can be scanned and imported into a CRM system, and portals to set up meetings with prospects. There are numerous opportunities if you plug into their networks. And since everyone now comes with their phone, digitized brochures have replaced printed ones. Simply upload them ahead of time for people to download. QR codes also help reduce costs. Embrace technology. The shows usually offer ways to capture leads electronically, and then those can be imported into your sales tool or CRM. Even WhatsApp can be linked to a CRM system, making the follow-up process much easier.
Brooks notes that he probably invested about one million dollars after all was said and done – for R&D, product development, and purchasing. Support from SUSTA paid for travel, trade shows, and research, and after two years the company had established contracts for about $10 million, "a great return on investment! My success came because I kept pushing, regardless of not being 'ready' yet. Your success is action, and action is now. I always advise people to push. Do it now, not later."
Rapport International specializes in multilingual communications, providing language translation and interpretation services that are accurate and culturally appropriate. We use the right voice and the correct terminology to avoid liability, customize services to your needs, and deliver on time and within your budget. With our 100% satisfaction guarantee, you can trust that it's done right. Contact us today if you would like more information or to get a free quote.
About the Author - Hannah Pentz
Hannah Feldman Pentz is an experienced marketer and content communicator, especially for professional services, business to business, and inbound marketing. She has extensive experience working with management consulting firms, helping them to create and implement marketing plans geared toward Fortune 500 global companies, as well as smaller non-profits. A graduate of Vassar College, (B.A., English) Hannah and her family live in the Boston area.