Today we'll talk about some of the technologies and techniques out there that can help, or harm, your multilingual marketing.
Machine Translation
Think of Google translate – this is a great example of machine translation. You copy and paste a foreign language into one square, pick the target language you want to translate into, and you get a free and fast translation. It's free and fast and anyone who has done this, knows that the quality is not dependable. This is (almost) never a good option for translating your marketing content into another language.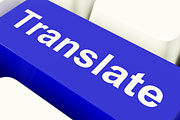 Translation Memory
Often you'll hear your professional multilingual marketing agency talk about their translation memory software (TM). What this means is that the agency is using a specialized translation tool that does not do the translation for them, but helps their professional translators stay consistent when working with a client on an ongoing basis. TM software takes the source file to be translated and segments it into smaller portions. It then compares those segments to files the company has already had translated and automatically fills-in a suggested translation for any segments that match previously translated content. This helps the translator save time because they don't have to continually translate the same content repeatedly. It also helps your company save money because your translation agency will scale the price of the project based on the matches found in the TM.
Website Translation
Your website is a lifeline to an international audience both domestic and global, and our services reflect the importance of not only keeping content updated, but also relevant and culturally appropriate across multiple languages. First and foremost, we employ a team of professional translators fluent in both source and target languages. We match you with a skilled translator with industry-specific experience who can accurately translate your website content while preserving its original meaning and tone. They pay careful attention to cultural nuances, ensuring that your message resonates with your target audience.
Localization services go beyond word-for-word translation, adapting content with respect to the cultural and practical requirements of the target audience. Globalization [alternate link: https://www.rapporttranslations.com/blog/culturally-adapted-translation-options-for-business-growth] goes even further, adapting a single language to multiple target regions – for example, the Spanish language can differ slightly in meaning or intention, depending on the audience's exact location. We also pay close attention to elements such as date formats, currency symbols, measurements, images, and even colors to make them relevant and relatable to the local audience. The process results in a personalized user experience that inspires engagement and brand loyalty.
Throughout, focus on a translation management plan that fits with your corporate strategy. An experienced, high-quality language services agency can kickstart your LangOps effort, creating a holistic, unified plan that ensures translated content – new product launches, promotions, or company news, for example – remains accurate and up to date in all supported languages and across all departments. Look for a comprehensive suite of services tailored to your needs; by leveraging an agency's expertise, you can expand your reach, connect with diverse markets, and communicate effectively with a global audience, while maintaining consistency, accuracy, and cultural relevance.
Join us next time when we talk about Getting the Highest Quality Multilingual Marketing Translation.
Rapport International specializes in multilingual communications, providing language translation and interpretation services that are accurate and culturally appropriate. We use the right voice and the correct terminology to avoid liability, customize services to your needs, and deliver on time and within your budget. With our 100% satisfaction guarantee, you can trust that it's done right. Contact us today if you would like more information or to get a free quote.