There are over 7000 languages identified in the world today (https://www.ethnologue.com/about). Yet almost half of the world population, 43% or 3.2 billion people, speak one of the top 10 spoken languages as their native tongue.
When you look at the total number of both native and non-native speakers for the top languages, you get an even clearer picture of how the world communicates. Despite Chinese being the largest natively spoken language, by far, English comes out on top with the greatest number of speakers worldwide. This is because many countries focus on teaching English as a second language in school.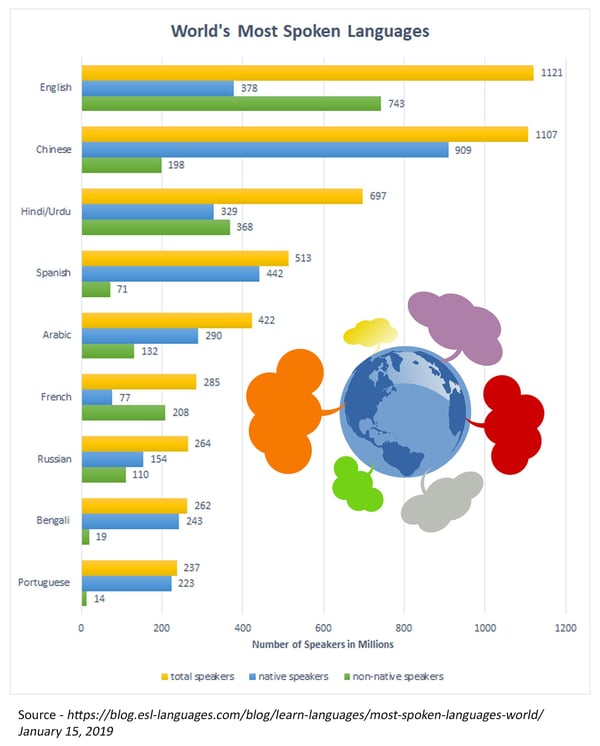 Now let's look at internet usage by language.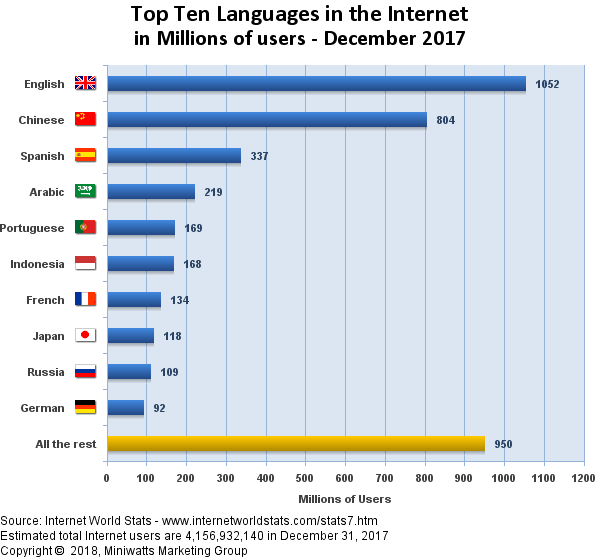 What does this tell us? While it is true that at over 1 billion internet users in the world are English speakers (both native and non-native), there is a potential audience of 3.5 billion internet users out there that speak other languages. Additionally, only a fraction of those 1 billion English-speaking users are native speakers, and studies have shown that people prefer to visit websites that offer content in their native language (see below). What this all adds up to is that the world if full of potential leads, especially if you speak to them in the right language.

Why Website Translation is Important
A couple quick statistics about consumers on the internet (Source: https://www.hubspot.com/marketing-statistics):
By 2021, global retail ecommerce sales will reach $4.5 trillion. (Shopify Plus, 2018)

90% of searchers haven't made their mind up about a brand before starting their search. (Status Labs, 2018)

61% of marketers say generating traffic and leads is their top challenge. (HubSpot, 2018)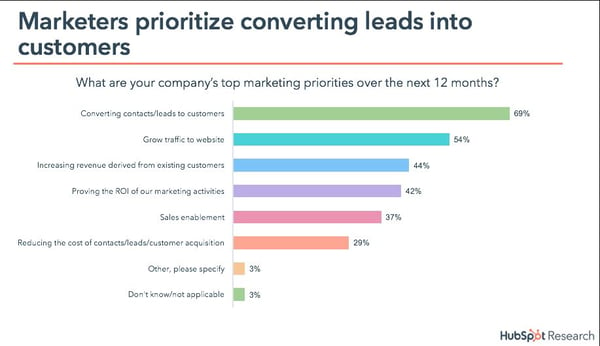 Source – Hubspot - https://bit.ly/2WVTZae
How can generating leads be a top concern for marketers when there are an estimated 4.1 billion consumers on the internet? Many companies are losing out on a huge audience because they are not providing content in native languages.
Consider this - over 50 percent of Google's search results are delivered to people outside of the United States. And Google provides search in more than 130 languages. This doesn't mean a website needs to provide content in 130 languages but starting with one or two could help improve lead generation and customer appeal in key target markets.
Translate your Website for a Global Audience
In a Gallup survey of Internet users from the European Union, fewer than half of all respondents said they purchase products and services in languages other than their mother tongue. Here are some other statistics from the Gallup survey:
90% of Internet users, when given a choice of languages, always visit a website in their own language

72.1% of consumers said they spend most or all their time on websites in their own language

19% of Europeans say they never browse in a language other than their own

42% of Europeans say they never purchase a product that is not presented in their native language

72% are more likely to buy a product when information is available in their own language

56.2% said they are willing to pay more if the company they are dealing with is willing to give them information in their own languages
Translating your website into key target languages will not only increase your appeal to native speakers, but it will help your SEO on Google for those countries.
Translate your Website for the Hispanic Audience in the United States
Did you know that the United States has the second largest population of Spanish speakers in the world, second only to Mexico? And that the Hispanic population growth in the US outpaces the growth of every other race, and that is expected to be a continuing trend?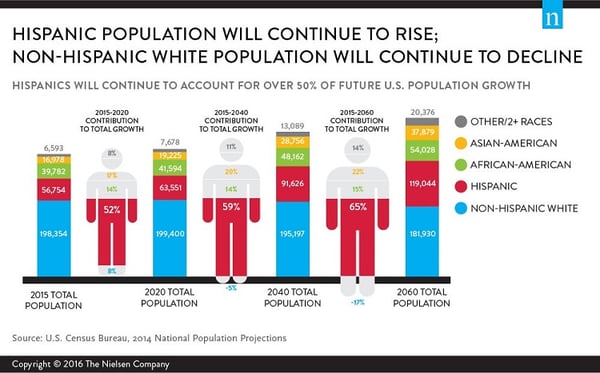 Source - https://www.hispanicmarketadvisors.com/english-to-spanish-translation/
Considering the preference of consumers for companies to provide information in their native language, that means if a US company is not providing marketing content and advertisements in Spanish, they could be missing out on 41 million potential customers, and more in the future.
Procter & Gamble Co. has the right strategy. In 2017 they were the No. 1 advertiser in Hispanic media in the US, spending $336 million. (Source - Ad Age https://adage.com/article/cmo-strategy/ad-age-s-2017-hispanic-fact-pack/310224/ )
A 2016 "Facebook IQ" study of Hispanics in the US performed by Latinum Network concluded (source -https://www.facebook.com/business/news/insights/gains-in-translation-what-your-language-choices-say-to-us-hispanics):
Ads targeting Hispanics in Spanish significantly increase interest in purchasing products (by 1.4x).

79% of Spanish-dominant US Hispanics, 82% of bilingual and 60% of English-dominant believe brands should market in both English and Spanish

58% of Spanish-dominant Hispanics, 48% of bilingual Hispanics and 42% of English dominant Hispanics think that brands that reach out to the segment in Spanish demonstrate they value the Hispanic community.

Hispanic consumers don't want just translated English advertisements, they want messaging that reflects their culture like Spanish-speaking actors (62%), family gatherings (58%) and humor (57%).
Conclusion
Website translation, although an expense (read more about the cost of translation), can increase leads as well as customer satisfaction and loyalty. Read some tips on creating a translation plan and Website Translation for Multilingual Marketing. Contact Rapport International if you have questions about your multilingual website strategy.
Rapport International specializes in multilingual communications, providing language translation and interpretation services that are accurate and culturally appropriate. We use the right voice and the correct terminology to avoid liability, customize services to your needs, and deliver on time and within your budget. With our 100% satisfaction guarantee, you can trust that it's done right. Contact us today if you would like more information or to get a free quote.