Do you need to be able to have quick, on-demand conversations with limited English speakers but struggle with the language barrier? If you need to speak to clients, customers, or employees who don't speak English, or who would be more comfortable speaking their native language, and your conversations are typically quick or not planned in advance, then telephone interpreting might be right for you.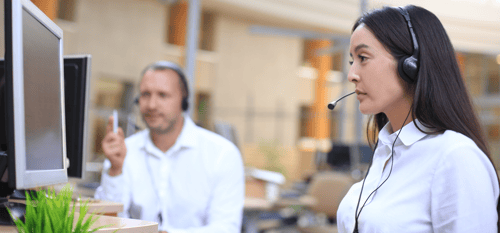 Telephone interpreting puts an interpreter at your fingertips anytime you need them, 24 hours a day, 7 days a week. Through a simple phone call you will be connected to a fully-bilingual interpreter who can facilitate the conversation over the phone. And best of all, you only pay for the minutes you are on the phone connected to the interpreter. With Rapport International's telephone interpretation service, there is no set-up or monthly account fees, you only pay for the minutes you use.
Pros & Cons
Telephone interpreting is not appropriate for every situation. Here are some pros and cons of this type of interpreting service.
Pros:
Perfect option for short notice, quick appointments.
Good for making calls to patients, customers or clients to give lab results, address customer service issues or make appointments.
Calls are billed by the minute with no minimum charge.
Over 200 languages can be accessed.
Works well for call centers.
Cons:
Impersonal for both parties.
No visual cues available.
Must speak into the phone which is limiting in many scenarios. Speaker phone can be hard to hear.
Can be confusing for interpreter if there is more than one person in the room.

How it Works
Rapport International provides real-time telephone interpreters skilled in over 200 languages. Our interpreters are specially trained in a wide variety of industries. Interpreters are available on-demand 24 hours a day, 7 days a week, 365 days a year.
Set-up is easy and seamless. We will create an account and provide you a phone number and account code to use anytime you need it.
Easy Account Set-up
Simple Process: Call - Connect – Interpret
Rapid Connection: Interpreter in seconds
Over 200+ Languages Available
Available 24 hours a day / 7 days a week / 365 days a year
Trained and screened interpreters
No one-time fees, no service charge, no monthly fee

Other Options
When you need an interpreter for a longer, more robust meeting, it may be a better option to choose an in-person or video remote interpreter. If you're unsure which type of interpreting service would be right for you, please contact us and we will assist you in developing the best strategy for your specific needs. Learn more about Using Interpreting Services.
Rapport International specializes in multilingual communications, providing language translation and interpretation services that are accurate and culturally appropriate. We use the right voice and the correct terminology to avoid liability, customize services to your needs, and deliver on time and within your budget. With our 100% satisfaction guarantee, you can trust that it's done right. Contact us today if you would like more information or to get a free quote.