The Global Marketing Show podcast debuted in October 2020 and it recently received its 1000th download. Presented by Rapport International and hosted by President Wendy Pease, to date the show has featured 40 guests with experience and expertise in global marketing. They share their successes and challenges in attracting and delighting customers around the world.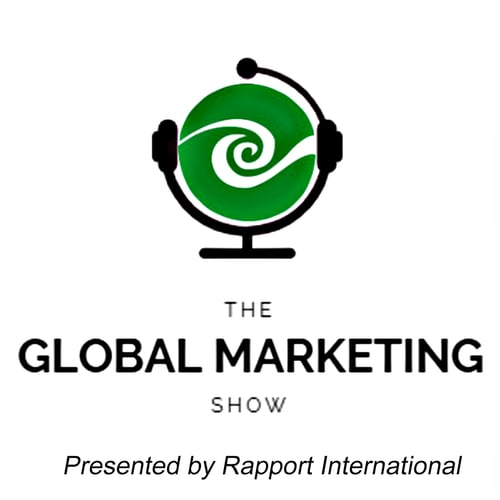 Episodes aim to be "edutaining" (entertaining to educational) as guests discuss the highs and lows of their experiences in marketing to international audiences. Learn through their mistakes and successes as they cover topics such as:
International marketing strategies
Deciding on target markets
Translation and multilingual marketing
Cultural challenges and successes
Fun stories, favorite places, and favorite foreign words
Guests are open and candid sharing how they've navigated challenges, overcome fears, and generated international and multilingual leads. Hear about the technologies that have helped, how they capitalized on translation and localization to support their efforts, and first-hand accounts about their journeys.
The Global Marketing Show podcast is available at www.globalmarketingshow.com and on your favorite podcast platforms including Apple Podcasts, Google Podcasts, Spotify, TuneIn, Amazon Music/Audible and Pandora. Listen and subscribe so you don't miss an episode and share the show with other marketing professionals who want to bring their business to the next level.
If you know someone who might be a good guest for The Global Marketing Show, complete the form on our guest application page.

Rapport International specializes in multilingual communications, providing language translation and interpretation services that are accurate and culturally appropriate. We use the right voice and the correct terminology to avoid liability, customize services to your needs, and deliver on time and within your budget. And with our 100% satisfaction guarantee, you can trust that it's done right. Contact us today if you would like more information or to get a free quote.