Rapport International offers reliable interpreting services to make sure your customers, partners, and service recipients aren't left out of the conversation. When speaking with new customers, we get asked all the time, "How much does an interpreter cost?" The answer depends on several different factors. Reviewing the services available can help you make the appropriate and cost-effective choice for your needs.
Need an Interpreter?
First, let's clarify the difference between interpreting and translating, as people tend to confuse the two. Simply put, interpretation is spoken, and translation is written. (Need information about translation, not interpretation? See our blog post that explains pricing for translation.)
An interpreter hears a verbal statement in one language and then repeats it verbally in another language. The first language is the source language, which is then translated into the second language, the target language.
When getting a quote for interpreter services, the cost will depend on the type of interpreting service needed, the time required, and the logistics of the situation.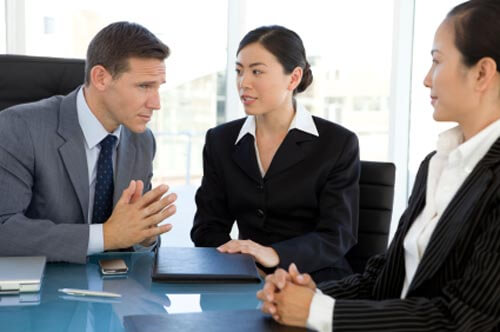 In-Person Interpreting
There are many situations where you might find yourself in need of interpreting services, and there are different kinds of interpreting services available to accommodate the situation.
Consecutive interpreting or community service interpreting is when the interpreter repeats what a meeting participant is saying (source language) in the target language, immediately after the person speaks. This is appropriate in smaller meetings where there is an exchange of information or ideas. An example of this would be a face-to-face appointment or meeting, such as a doctor's appointment or legal deposition.
Escort interpreting is when an interpreter accompanies a client to an event, such as a trade show, to provide consecutive interpreting services at booths or conferences.
Simultaneous interpreting or conference interpreting is appropriate when you have a larger group, like at a seminar or presentation, or there are multiple languages spoken by participants. Simultaneous interpreting provides real-time interpretation of conversation or presentations, as it is happening. This is a very demanding service, and it requires multiple highly skilled interpreters, often for several languages. In this type of session, the interpreter must process hearing and talking at the same time, with no breaks or rest periods. This requires hyper-focus and can be strenuous; the interpreters in each language typically rotate every 15-20 minutes to combat fatigue. You may have seen examples of this type of interpreting in videos of United Nations style meetings. Read more and learn best practices for using conference interpreters in our blog, Qualified Interpreters for Virtual Meetings and Live Presentations.
Remote & Virtual Interpretation
If your meeting or discussion will be of short duration, or if you do not need an interpreter physically present, we offer remote service options.
Phone interpreting is a good choice when you need a quick, on-demand conversation with someone who speaks a different language. You can set up an account easily, you only pay for what you use, and you have 24/7 access to highly trained interpreters in over 200 languages.
Video conference interpreting services can eliminate language barriers and help you communicate with colleagues who speak different languages during Zoom meetings or virtual presentations. Live virtual interpreters can provide simultaneous or consecutive interpretation, depending on the meeting needs.
Video remote interpreting (VRI) might be the right choice if you need a service that offers a visual connection during a face-to-face meeting where an interpreter can't be present. Using video gives the interpreter the ability to see and read visual cues during the conversation. Our VRI services offer trained, experienced interpreters in many languages, including American Sign Language (ASL). These services can be accessed on demand with any device with a camera, a Wi-Fi connection, and the appropriate app.
Multilingual chat or conversational marketing allows non-English speaking visitors to your website access to the information they need. Some of their questions can be answered by a preprogrammed bot, and some of their questions can be answered by a live, trained representative. This service lets you answer your customers' questions in the languages they speak, with a 24/7 chat response. Learn more by watching the Conversational Marketing in a Global Online World webinar.

Pricing for Interpreting Services
Now that you have a better understanding of the type of interpreting you may need, let's talk about pricing. Interpreter costs depend on the type of service and the time needed for the appointment or event.
In-person and video conference interpretation services are charged on an hourly basis, plus reasonable travel expenses for in-person meetings when applicable.
Simultaneous or conference interpreting services are charged based on the job – the scope, length, equipment, number of interpreters needed, etc.
Phone and VRI interpretation services are charged by the minute.
Multilingual chat costs depend on the level of service (bot versus live), the languages needed, and the demand.
What We Include
At Rapport International we offer free quotes, and you can trust that we won't add on extra fees. The following services/benefits are always included in the quoted rates:
Free consultations
Dedicated scheduling team
Project management services
Scheduling portal access
Team training
Consistency of interpreters when possible
Customer service available 24/7
Satisfaction guarantee
Quote Variables
In addition to type of service, time required, and level of service, other factors are considered when developing a quote for interpreting services.
Advance scheduling
Length of assignment
Consecutive appointments
Technical material
Ongoing project needs
Location of services
Learn more about Using Interpreting Services and other interpreting pricing variables in our blog, How Much Does Translation & Interpretation Cost?
Customer Satisfaction
While we do our best to match you with an interpretation specialist well-suited to your needs the first time, sometimes people don't "click." That's okay – we'll take care of it! If you will be working with us for a long-term project, we encourage you to provide feedback on the match. If you tell us that it is a good match, we will work to send that same interpreter next time. If you tell us that it was not a good match, we will make note of that and make sure to find another interpreter for your project. We'll ask questions to understand the situation, we'll figure out how to fill your needs, and we'll find the right person for your project. The feedback you provide is critical to developing our partnership and continuously improving interpreter skills, so we can best meet your needs on each and every project.
Rapport International specializes in multilingual communications, providing language translation and interpretation services that are accurate and culturally appropriate. We use the right voice and the correct terminology to avoid liability, customize services to your needs, and deliver on time and within your budget. With our 100% satisfaction guarantee, you can trust that it's done right. Contact us today if you would like more information or a free quote.