One of the most common questions we are asked is "How much does an interpreter cost?" Interpreting is the conversion of one language to another in a speaking situation, as opposed to translation which is the conversion of written materials from one language to another. The cost of translation is addressed in the blog How Much Does a Translation Cost.
The cost for interpretation depends on the type of interpreting needed (simultaneous or consecutive), the length of the assignment/appointment, the location, equipment needs and travel expenses (including parking and tolls, etc.).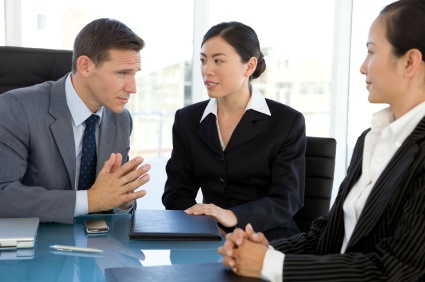 Types of Interpreting
Each situation calls for a different type of interpreting. For example, if there is a small meeting such as a legal deposition or a doctor's appointment and the interpreter is going to repeat what the meeting participants are saying after the person talks, this is consecutive interpreting or community service interpreting. If the client wants to walk a trade show floor and have some interpreting at booths and explanations of what is happening at a conference, this would be "escort interpreting".
When there is a larger audience like at a presentation or seminar, or multiple languages are spoken by participants in the event, this typically calls for simultaneous interpreting. Simultaneous interpreting takes a more demanding level of skill and multiple interpreters are often needed in each language. For an ongoing session, the interpreter has no breaks and no rest periods, and the interpreter needs to process hearing and talking at the same time. Since this takes hyper-focus, and can be taxing, to combat fatigue, the interpreters in each language rotate every 15-20 minutes. As an example of this, think of pictures you've seen about UN interpreting.
When an interpreter does not need to be physically present or the meeting/discussion is anticipated to be short, there are telephone interpreting and video remote interpreting (VRI) services. Telephone interpreting is accessed with a telephone and an account number, 24/7. And VRI can be accessed with any device with a camera, a Wi-Fi connection and the appropriate app.
Finally, if you need to communicate with non-English-speaking customers on your website, there is a service called Multilingual Live Chat or conversational marketing. Either a preprogrammed bot or a live, trained representative can answer questions in the languages your customers speak.

Interpreter Pricing
Interpreter costs depend on the service you need and the time of the appointment. Live interpreters are charged on an hourly basis plus reasonable travel expenses, telephone and VRI services are charged by the minute, and Multilingual Chat costs depend on the level of service (bot versus live), the languages needed and demand.
At Rapport International the following services/benefits are always included in the quoted rates – we never hide or tack on extra fees:
Project management
Dedicated team of schedulers
Free consultations
Access to the scheduling portal
Team training
24/7 customer service
Consistency of interpreters when possible

Variables that Affect Pricing
Did you schedule in advance? For in-person interpreting it is more difficult to find a qualified interpreter at the last minute. Most schedules fill up and it takes a concerted effort to find a linguist at the last minute. Plus, it leaves no time for the interpreter to prepare in advance. Interpreters like to see the presentation, notes and any preparatory materials in advance so they are ready. Rush fees for last minute scheduling may apply.
How long will the assignment be? Most agencies have a minimum charge. Shorter assignments can be difficult because of the travel time to get to an appointment and not being able to schedule multiple jobs in different locations back-to-back in case the first one does take more time. Many agencies will offer a discount for a full-day or multi-day assignment, or for back-to-back appointments.
Stacking Appointments - Will there be unfilled time? An interpreter is on the clock from the start time to the completion time. It's most cost effective to have interpreting appointments booked consecutively so you do not have to pay to have someone sit around and wait for the next session/appointment or have to pay for multiple travel expenses. Stacking appointments or meetings keeps the interpreter busy, helps us with scheduling and minimizes additional expenses.
Is the material highly technical? If the meeting is about unique or esoteric material, you may need a bilingual expert in that area. A specialized or highly trained linguist may be more expensive. But, it's better to have the right person rather than have an ineffective meeting due to communication problems.
Is it a really long assignment? Volume discounts often apply.
Is it an ongoing project? If we know that you have a meeting or appointment on a regularly occurring basis and we can anticipate when to schedule and how long it will be, we can plan for it and discount the on-going work.
Do we have a relationship with you? We have many long-term clients that have been with us over 30 years. When they need an occasional rush, we try to accommodate them since we know their business. Of course, if it happens on a regular basis, we might not be able to accommodate, yet we try.
Geography – different regions in the U.S. charge less. For example Nebraska will cost less for an interpreter than Massachusetts.
We've Got Your Back
Occasionally, you might not like an interpreter, it may be personality, conflict of interest, a feeling, or a myriad of other reasons. When you work long-term with Rapport International you can provide feedback such as this and we will work to send the same person that you like or track those that you don't like. We will ask questions to understand the exact situation, figure out the best way to fill your needs and appoint the right person for the assignment. Our goal is to develop a partnership with you, so we know how to best work with each other on each and every project.
We work by the motto "We've got your back." Quality is our top priority. If you're not 100% satisfied with your interpretation services for any reason, neither are we. We promise to work until you are a raving fan -- that is our guarantee.