When my friend Sharon and I arrived in Morocco off the ferry from the Rock of Gibraltar, we arrived at a country unlike any we had visited before. Immediately, we were surrounded by men speaking Arabic who were trying to grab our bags and lead us to their cars. It was 5:30 pm at night – already dark, we were the only women around, we did not speak the language, and we didn't know where our hotel was. We were 25 years old and scared.
Luckily, the men had no intention of hurting or insulting us, they were simply trying to get us to ride in their taxis. We went with one who gave us a ride about 200 yards to our hotel. We could have walked but we didn't know where we were going.
After we checked in, we sat on the end of the bed, trying to figure out how we could safely go out and find dinner. Although, no one was trying to hurt us, we didn't understand the culture, the language, or know our surroundings.
Luckily, when we went to the hotel lobby, we encountered two young men who we had chatted with on the ferry. They were bilingual English-Arabic, so they escorted us to dinner, and we learned our way around. The next day, we had a blast exploring the Casbah. We found the culture welcoming and used body language and gestures to communicate. It was a delightful visit.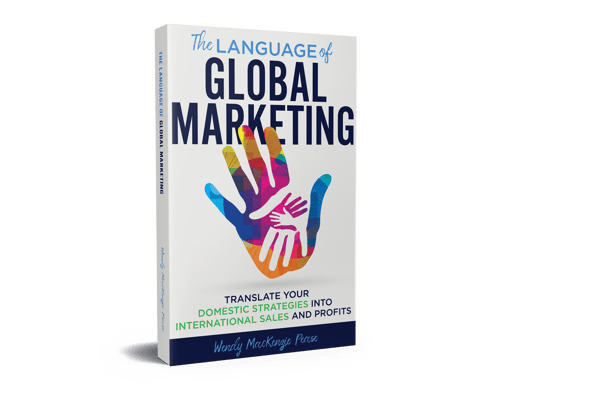 Global Marketing and Translation Increase Revenue
Not knowing the language or culture can lead to fear, frustration, being left out, and a longing to belong. Plus, it can lead to huge losses of potential revenue if your business does not speak a prospective buyer's language. You know the feeling when you land on a website in a language you don't speak – you immediately click away.
With people from around the world accessing your online content, you have easy ways to "speak" to millions of potential buyers by connecting with them in their own language. You eliminate fears and barriers this way.
In the US, less than 1% of companies export and 98% of the companies that do, are small and mid-size businesses. They understand that the US is a small part of the global market and the opportunity that Global Marketing offers. Even though they export or have international sales, they may not realize that they fall into a category of businesses that have higher revenues, higher profits, more stable and faster growing businesses because they operate globally.

"The Language of Global Marketing" the Book
I wrote the book "The Language of Global Marketing – Translating your Domestic Strategies into International Sales and Profits" after having 100's of conversations with marketers, who want to better understand how to connect with buyers, business leaders who want to grow into untapped markets, and agencies who want to offer new ideas to their clients about how to increase inbound multilingual lead generations.
In The Language of Global Marketing, I discuss real stories – about how to translate words like kalsarekannit that is a Finish word that means "I'm at home, drunk, in my underwear, and have no plans to go out". And, I relay stories of how small and mid-sized companies recognized and acted upon incoming information to expand internationally. In addition, I give more details about the successes of global business. Then I share practical advice on how to handle your global marketing in a thoughtful and efficient manner.
I spent the time to write this book to help people understand the opportunity, unearth options for how to start and/or improve global marketing, and explain the free resources available to help interested companies.
Reviews have said that it's an easy-to-read book chocked full of great advice. Since the other books on Global Marketing are textbooks, I understood why people might be interested in having a business book with advice on increasing their revenues.
In the book, I even tell a story about the experience my Mother had with a Chinese translation when she was a visiting professor researching criminology in China. Her research assistant offered to do the translations, another bilingual staff member read it, and said the meaning changed in the translation. After wasting time and effort, my Mom came to me to figure out how to make sure she had a quality translation.
She got a free consult and was able to move forward. My hope is that you have this resource to guide you in your multilingual communications before you end up in the same situation as my Mom. (She proofed the book and OK'd the story!).
I'm so excited to share "The Language of Global Marketing: Translate you Domestic Strategies into International Sales and Profits." You can find it on Amazon or the other online places you buy books.
If you or someone you know is looking to grow their business, order a copy of the book and contact the experts at Rapport International for a free consultation.
Rapport International specializes in multilingual communications, providing language translation and interpretation services that are accurate and culturally appropriate. We use the right voice, correct terminology to avoid liability, customize services to your needs, and deliver on time and within your budget. And with our 100% satisfaction guarantee, you can trust that it's done right. Contact us today if you would like more information or to get a free quote.