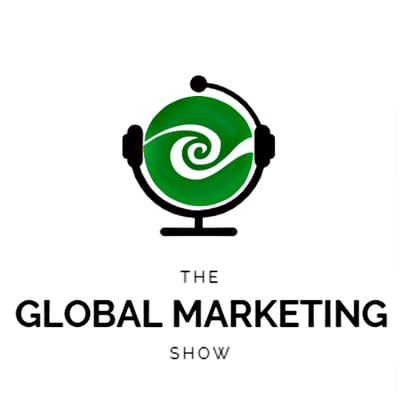 Here at Rapport International our mission is to connect people across languages and cultures for a peaceful and prosperous world. What better way to do that than in a podcast?
For the last few months, we've been recording episodes for "The Global Marketing Show", presented by Rapport International. Each week, our host and President, Wendy Pease will talk to guests who have expertise in global marketing about the opportunities and challenges of bringing a product or service to a new market.

Why Global Marketing?
Did you know that less than 5% of US companies export? And, those that do:
Have higher revenues
Are more profitable (over 15%)
Have smoother business cycles
Fully use their production capabilities
Have a stronger defense against domestic market fluctuations
Increase the value of their intellectual property
Increase value of their company!
Here's another surprising statistic, did you know that the majority of exporters from the US are small and mid-sized companies? It is NOT just for the big guys!
Additionally, there are grants and government supports to help small and mid-sized companies export. The US imports so much, that the government has programs to support exporters and get US goods and services out to a global market to help balance trade. And, because US products are in high demand, why not listen to The Global Marketing Show podcast to learn how to export.
These days it's easier than ever to expand internationally. The internet allows people from all over the world to access your information, website, products, and services. By following the advice of our guests, you'll strengthen your business and have loads of fun along the way.
Multilingual Marketing Within the US
While guests mainly talk about exporting (and sometimes importing), you can apply what you learn right here in the US!
The US population is full of diverse consumers who speak more than just English. For example, the Spanish speaking population in the US is second in size only to Mexico. It's larger than every other Spanish speaking country in the world. That's a huge market segment to target with in-language campaigns and advertising to build brand awareness and loyalty.
Many US companies know the potential and actively market to this population. Just look at who advertises on Telemundo or Univision, you'll see:
Toyota
Honda
McDonalds
Target
Disney
Cleaning products
Fast food
And local companies that understand the potential!
It's huge and you don't even have to leave the US boarders.

The Global Marketing Show Podcast
We have spent the past 30+ years educating our clients and prospects about the benefits of exporting and marketing to a global audience. What better way to scale that message than through a podcast?!
Each guest has experience with global marketing and discusses topics like:
Opportunities and challenges of expanding your market reach
Overcoming fears of moving out of your comfort zone
Best practices for increasing multilingual lead generation
Technologies that help or hinder
Right timing for translation/localization and expansion
The guests openly share their experiences about what worked, and candidly open up about what didn't work.
In addition to talking about multilingual strategies, the podcast covers other topics of interest including:
How to build a strategy and process
Deciding/evaluating what countries to start in
Considering and navigating different cultures
Overcoming fears
What mistakes others have made and their recommendations for avoiding them
Best practices from industry experts!
The goal of the podcast is to be educational and entertaining (edutaining) with some laughable moments hearing about funny translation mistakes and cultural gaffes.
There are a lot of great marketing podcasts to listen to yet there are few that focus on global expansion, multilingual marketing, exporting, and internationalization. There's so much content, experienced and interesting people, and success stories in this area. The Global Marketing Show fills this void.
Listen and subscribe to get weekly updates for new episodes. Also, please share the show with any marketing professionals, business owners, sales leaders, or global citizens in your network that want to increase business so they can subscribe and never miss an episode.
Where to find and follow The Global Marketing Show:
Rapport International specializes in multilingual communications, providing language translation and interpretation services that are accurate and culturally appropriate. We use the right voice, correct terminology to avoid liability, customize services to your needs, and deliver on time and within your budget. And with our 100% satisfaction guarantee, you can trust that it's done right. Contact us today if you would like more information or to get a free quote.