The other day, I got a call from a corporate client asking for a "certified translation." Since it is unusual for a company to ask for that, I asked why they wanted one. He went on to explain that the company wanted to make sure that the translation was "correct". Ahh, then I understood what he was really looking for. Over the years, I've had many such calls and conversations.
What is a Certified Translation?
First off, let me explain what makes a certified translation. Certification only means that the person or agency representative responsible for the translation adds a sentence to the translation saying that they did the translation.
For example, we write:
"I, Wendy M. Pease, certify that the attached is a true and accurate translation to the best of my ability from Arabic to English, done this 4th day of January 2021."
And then we print it on letterhead. That is all a certified translation includes.
Sometimes documents need a notary of the certification. If this is the case, we add a signature line and the following: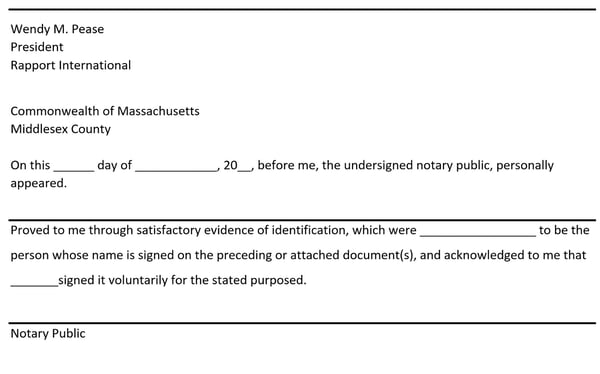 The notary gives their stamp testifying that I signed the certification stating we did the translation. It does not reflect anything about the actual translation.
Who Needs Certified Translations
Now let's look at where certified and/or notarized translations are required.
Government entities that need translated documents from individuals for visas, immigration, work status, divorces, investments, education applications, and court proceedings require certified AND notarized translations.
For example, say a young adult applies to come to university in the US. They will need certified and notarized translations of their transcripts and diplomas. If the person accepts a job in the US after graduation and decided to become an American citizen, they will need a certified and notarized translation of their birth certificate.
The certified translation shows the government officials that the translation was done by an independent party to the application being submitted.
Certification and Quality
So, would the corporate caller really need a certification to prove quality? Probably not. But there are a few exceptions.
Life sciences companies that submit documents to the FDA may want a certification and notarization to show that a qualified and trained translator/agency completed the project. This limits their liability as they followed best practices in obtaining a translation. Plus, established agencies like us carry a liability insurance policy to cover any mistakes. Thank goodness in over 30 years of business, we've never made a claim.
Other companies may choose to get a certification to track where a document was translated but don't necessarily need a certification.
As for quality, a certification really doesn't "prove" that nor does a back translation. If you have a document that really needs good quality, we suggest that you hire a translator and an editor. To read more about getting a quality translation, read 8 Considerations for Getting High-Quality Document Translation.
Rapport International specializes in multilingual communications, providing language translation and interpretation services that are accurate and culturally appropriate. We use the right voice, correct terminology to avoid liability, customize services to your needs, and deliver on time and within your budget. And with our 100% satisfaction guarantee, you can trust that it's done right. Contact us today if you would like more information or to get a free quote.