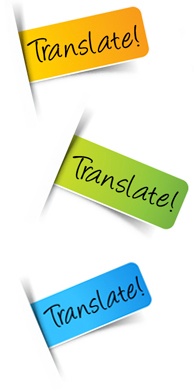 No matter what fields or industry you work in, when you need your website, documents and forms, advertising materials, manuals, instructions, software, technical materials, packaging, branding messages, brochures, catalogs, presentations, videos or any other materials translated, you need to make sure your message is correct and consistent in EVERY language and across ALL materials. The first step in making sure your translations are the best they can be is to make sure that the English copy is the best it can be. The copy needs to be concise, clear, written in proper English and finalized before it goes to your professional translation company.
Clear and Concise
The best translation typically comes from copy with very precise language. It's important that the English documents you submit to your professional translation service be clearly written in proper English to reduce the number of questions from the translator. If the copy is ambiguous, or could have more than one meaning, the translator will not know which meaning is correct and will need to seek clarification, which costs time. For example, the phrase "hospital payor" isn't precise, it could mean the patient, an insurance company, or a hospital benefactor. Phrases and words that have more than one meaning can lead to bad translations and inconsistent messaging. Even the best translation company can't fix bad writing. Bad writing always equals bad translation.
Avoid Tricky Language, Humor and Slang
Do not use slang, colloquialisms, idioms, or improper grammar. Catchy phrases often do not work across cultures and languages – sometimes they don't even work in the same country in different locales, or in different countries with the same language. Consider the word "rotary" – in Massachusetts and the Northeastern part of the U. S. this is our word for what other parts of the country call a traffic circle, or what other parts of the world call a roundabout. There was also the example of years ago when Electrolux was thrilled with the response to their slogan "It sucks" in the UK. You can imagine how well that slogan went in the United States!
Avoid humor and tricky grammar. Even within the United States, what Southerners find humorous may hit a flat note in the Pacific Northwest. This applies when translating humor to a new language and culture. The same holds true when using tricky grammar, clever taglines, as well as commonly accepted categorizations. A tagline or marketing slogan that is improperly received can irreparably harm a company's chances at success in a new market. For example, when Kentucky Fried Chicken tried to use its American slogan "Finger-Lickin' Good" in China, the tagline translated into "Eat Your Fingers Off". Read more Translations Gone Bad.
A reputable language service provider like Rapport International will catch these types of potential issues, and help you translate appropriately for your target market, BEFORE a mistake happens. Here at Rapport International we get to know each client's needs and wants, and will deliver your translations on-time and how you want them EVERY TIME.
Join us next time to read more writing tips in More Writing Tips for Translation – Part 2.