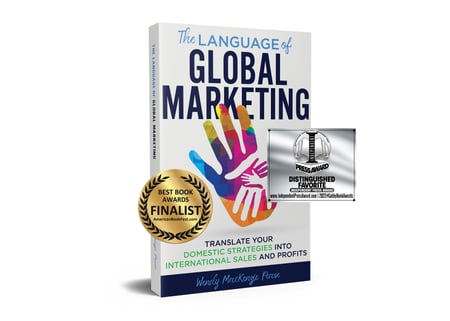 Author Wendy Pease selected as finalist for Independent Press and American Book Fest Awards
FOR IMMEDIATE RELEASE
Boston, MA, June 2, 2022 – The Language of Global Marketing: Translate your Domestic Strategies into International Sales and Profits by Wendy Pease, Owner and President of Rapport International, has been recognized by the Independent Press Award as one of seven Distinguished Favorites of 2002 in the Sales/PR/Marketing category and by American Book Fest as one of only three finalists for 2001's Best Business: Marketing and Advertising book.
The book provides an easy-to-follow roadmap for propelling small- and medium-sized enterprises within myriad industries onto the global stage. It outlines strategies for attracting and managing a multilingual workforce, creating a cost-conscious ecommerce translation management plan, and preparing for global growth from the outset. The process can be replicated within vertical industries and addresses translation and interpretation, marketing, and exporting in compliance with government regulations.
"Globalization has come to mean so many things, yet at its simplest and finest it means connecting people across borders and cultures," said Pease. "I found that very personal connection missing from business textbooks on the subject of global business; my book outlines for business owners the practical steps for making a personalized and culturally appropriate entrance onto the global stage."
The awards cap a banner year for the critically well-received and best-selling title, now celebrating its one-year anniversary.
About the Independent Press Award
The Independent Press Award celebrates great ideas from independent publishers around the world. Its mission is to give great independent books their due and provide broader access to the book-buying community.
About American Book Fest
Now in its 19th year, American Book Fest celebrates the written word in all genres, both fiction and non-fiction, whether self-published, independent, or mainstream.
About Rapport International
Rapport International specializes in multilingual communications, providing language translation and interpretation services that are accurate and culturally appropriate. We use the right voice and the correct terminology to avoid liability, customize services to your needs, and deliver on time and within your budget. With our 100% satisfaction guarantee, you can trust that it's done right.