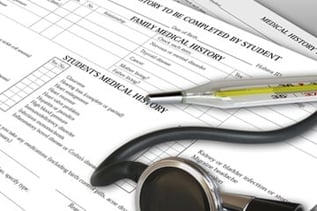 Many people use the words translation and interpretation interchangeably, but they actually have very different meanings. Translation refers to the written word. It is the transformation of written text from one language into another. Interpretation refers to the spoken word. It is the conversion of spoken word from one language into another. It is important to know which service you need when seeking medical translation or interpreter services from a qualified agency.
> 21% Of the US Population Speaks a Language Other Than English At Home
It has become increasingly important for medical professionals to provide interpreter services to their non-English speaking patients. A qualified interpreter serves an invaluable role ensuring both the medical professional and the patient fully understand each other, and that treatment can be administered quickly and appropriately. Learn more about Using Interpreting Services.
In addition, medical document translation has often been a secondary consideration for healthcare providers, but that should not be the case.
It's The Law
The Affordable Care Act reinforces and enhances previous acts to mandate certain language services for limited English speaking patients. Many of these regulations pertain to interpreter services, but there are also directives regarding medical document translation. The Summary of Benefits and Coverage form as well as the Uniform Glossary must be translated under the ACA guidelines. Other forms that may be implied as being necessary to translate include, but are not limited to:
Provision of Claim or Appeal Notices
Medical History/Record
Patient Information Leaflets
Discharge Summaries
Medical Test Forms and Explanations
Mental Status Examinations
Surgical Operative Reports
Medical brochures
It is best to translate any document available to English speaking patients into other languages to ensure continuity and equality of care.
Medical Document Translation
Medical translation services should be conducted by a qualified medical translation agency who utilizes linguists who are not only fully bilingual, but who also have training and experience in medical document translation. As in other types of documents, simply translating word-for-word will not result in a high-quality, accurate document. Medical translations, just like interpreting services, should be culturally sensitive to different beliefs and practices. Qualified medical translation professionals will be able to incorporate their cultural understanding into the translated document. The result will be a higher-quality, socially appropriate medical translation, and will ensure that the limited English speaking patients get the same information as the English speaking patients.
Avoid the Pitfalls
When an inexperienced linguist translates the medical document the results can potentially be catastrophic. Many medical terms are very similar looking and sounding in the English language. For example, a client asked us to proof a document that used the word for the disease AIDS when the material actually talked about mobility aids. Luckily, they knew to have their brochure edited by a professional. There are also words in English that sound like words in other languages, but have completely different meanings. For example, the Spanish word 'intoxicado' can often be mistaken for the English word 'intoxicated', but they do not have the same meaning. Intoxicado means having eaten something disagreeable resulting in an upset stomach, but intoxicated means the patient has ingested excess amounts of a drug or alcohol resulting in a possible overdose. Using an unqualified or inexperienced medical translator, could result in misdiagnosis or mistreatment of a patient, or incorrect instructions to a patient for continuing treatment or medication usage at home. For example, we heard of a time when the doctor asked the housekeeper to interpret. When she didn't know the Portuguese word for pap smear, she said "stomach surgery". These types of errors are not only risky, but they cost undue emotions, time and money to correct.
Continuity Across Services
Using a qualified medical translation agency who employs educated, experienced linguists is the best way to ensure your medical translation is accurate and of the highest quality. We also recommend that you choose a single company to provide both your medical translation and medical interpreter services. Consistency will help ensure continuity of voice and service, and will help build a strong, lasting, successful relationship.
Rapport International specializes in multilingual communications, providing language translation and interpretation services that are accurate and culturally appropriate. We use the right voice and the correct terminology to avoid liability, customize services to your needs, and deliver on time and within your budget. With our 100% satisfaction guarantee, you can trust that it's done right. Contact us today if you would like more information or to get a free quote.