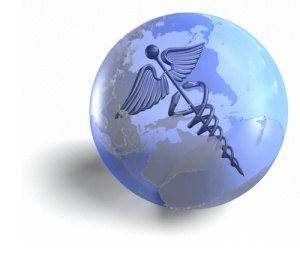 To the layperson, medical jargon is effectively a language unto itself. In fact, if a doctor's handwriting is anything to go by, it even has its own alphabet! Fortunately, in their daily practice most medical professionals make use of diagrams and common comparisons to familiarize their patients with ailments and procedures, and set their minds at ease. After all, it's easy to contract or develop an ailment. Yet understanding that ailment is another story, and understanding how to treat it is even more complex. So in most cases, comparing the digestive system to faulty plumbing is a good enough explanation.
In most circumstances, however, a "good enough" understanding of a procedure is not good enough, doctors and researchers must explain an ailment as technically as possible as to be fully understood by the patient. Fortunately again, tools and templates exist to translate medical terminology into more understandable language. This way, the patient understands fully what they are agreeing to, and if they don't then the hospital can reasonably argue that they should have. To these ends, clarity – even to the point of redundancy – is essential.
In the case of experimental treatments or clinical trials, clarity is paramount. Strict federal regulations are built and revised each year around the issue of clarity. The slightest deviation or doubt as to a subject's fully informed consent is grounds for the FDA to deny approval to a new drug, and for good reason.
And keep in mind, we're still only talking about translating Medical-English to English-English. What happens when your patients are non-English speakers, either here in the US, or beyond its borders? How does one ensure that a subject has given their fully informed consent when you speak different languages? What options are available? Admitting only English-Speaking subjects to a study may be the simplest and most tempting option. But from a scientific standpoint, in an increasingly globalized medical landscape, it's hardly ideal to limit one's frame of reference in any capacity.
This is when you need translated documents that you can trust are accurate and complete. Working with a trusted professional translation agency like Rapport International, which has a proven reputation for accuracy and high quality, and also has linguists that understand and specialize in medical terminology, is of utmost importance.