ROI for translation is not an easy thing to measure. But there are 8 key factors for why translation is a good investment and can fuel the growth and success of a company.
Measuring Translation ROI
Increased Sales – Probably the easiest metric to measure because numbers can be easily obtained.
Increased Exposure – Each language you translate your website, documents and marketing materials into opens whole new markets of potential customers.
Customer Appeal – "Speaking" in a customer's native language not only appeals to customers, but more than 50% say that it's more important than price when making buying decisions.
Convert More Leads – Translation helps companies convert up to 3x more website visitors from leads into customers.
Increase Customer Satisfaction – Having questions easily answered in-language and providing in-language instructions and documentation provides a much more positive customer experience. And happy customers are return customers.
Meet Compliance Regulations – Depending on the materials and the country you are exporting to, you may need to meet legal regulations. Professional translation services will help you stay compliant.
Recruit and Retain Employees – If you expand your workforce into a new market, as well as your goods and services, having in-language employee documentation and training will increase employee satisfaction and retention.
Accurate Message – Don't make the types of mistakes described in Translations Gone Bad – Research Before Exporting, use a professional translation agency that understands the culture, not just the language, and who can culturally adapt your materials for the best campaign and message.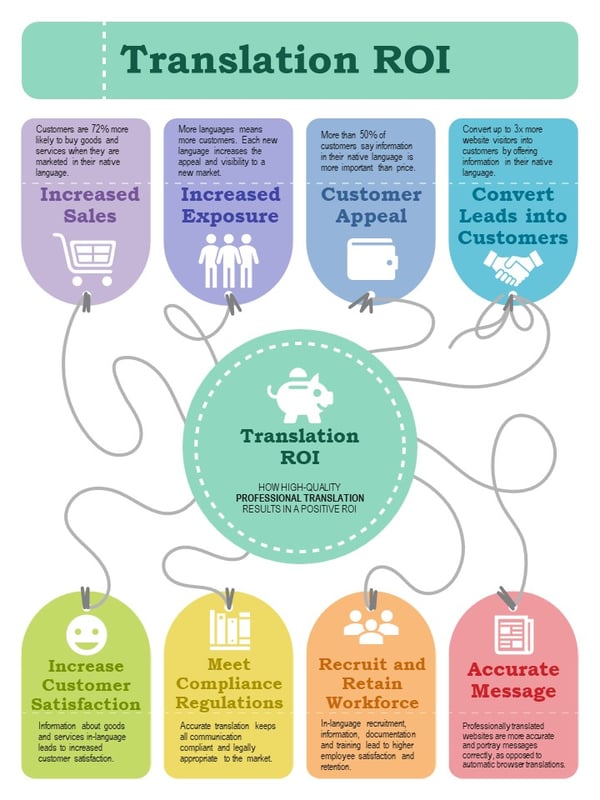 When you take all these factors into account, the expense of professional translation more than pays for itself in increased exposure, more sales, and happier customers and employees. And it fuels the growth of a company into new markets with millions more potential customers.
If you have questions or are ready to take your business to the next level, contact Rapport International. We will guide you toward success, and we back our services with a 100% satisfaction guarantee.