8 Reasons Translation Leads to Success
Translating your marketing materials for global audiences can lead to company growth, but it does carry costs. How do you know if it's worth the expense? How do you measure the impact translation has on your business?
Measuring the Return on Investment (ROI) of Translation
The potential ROI for translation is not easy to measure, but the cost of not doing it, or doing it poorly, can be huge. There are metrics to track and measure, such as website visitors and sales in a new market, yet there are other less quantifiable effects on your business that are of equal - possibly greater - value.
Understanding the benefits of translating for targeted markets can help in developing your strategy and tracking metrics. Here are 8 factors to use to measure ROI:
Sales. Increasing your customer base increases the potential for new customers; new customers lead to an increase in sales. In terms of metrics, tracking sales numbers is the most obvious way to measure growth against the investment in translation services.

Exposure. Translating into your target language(s) leads to increased exposure. When you translate your marketing materials, website, and documents, each language you add gives you access to new markets and more potential customers. Metrics for measuring exposure include increased website visitors or customer inquiries from target countries.

Customer Appeal. Taking the time to connect with your customers in their native language can have a positive impact on buying decisions. More than 50% of customers say that addressing them in their native language is more important than price. Winning more business than the competition is the goal; keep tabs on the performance of your goods and services vs your main competitors in each market to measure the success of your in-language marketing.

Conversion. You can convert more leads when you translate your website into your target market's language. Tracking conversions of international leads and customers will support your translation ROI. Imagine realizing up to 3x more website visitors, converting them to leads and from leads into customers!

Customer Experience. The customer experience sets the tone for your relationship. When you answer questions in the customer's native language and provide in-language documentation and instruction, you make it easy for your customers to find the information they need. This promotes a positive customer experience and increased customer satisfaction, which in turn encourages return customers and referrals to new leads. Word of mouth advertising is invaluable.

Compliance. When exporting, you need to consider the legal regulations involved with the type of materials you are exporting and the specific requirements of the country of import. Including professional translation services in your exporting strategy will help you identify, understand, and comply with those regulations. If you decide not to use a professional translation agency in countries where English is not the primary language, you run the risk of liability from incorrect translations, which could end up costing you more in the long run. This metric is hard to quantify, but it needs to be considered.

Workforce. Your market expansion may go beyond goods and services – you may decide to expand your workforce as well. Recruiting and retaining quality employees can be a challenge when you don't speak the language. You can attract qualified candidates and increase employee satisfaction and retention by providing in-language employee documents and training. Outside of retention, measuring employee satisfaction may be difficult. However, happy employees produce and perform at a higher level than unhappy employees. Want to hear more about how to win employee loyalty by translating to their native language? Listen to the "English is NOT the Global Language" episode of The Global Marketing Show podcast.

Cultural Accuracy. You want your marketing materials to attract and delight, not drive away and offend. That's why you should be sure to use a professional translation agency that understands the target language and their norms, culture, and slang. By making sure your campaign, message, images, and visuals are culturally accurate, you will draw new customers in (a quantifiable metric) and limit the potential for some costly mistakes. Check out Translations Gone Bad – Research Before Exporting for examples of marketing translations that failed and ultimately incurred additional expenses.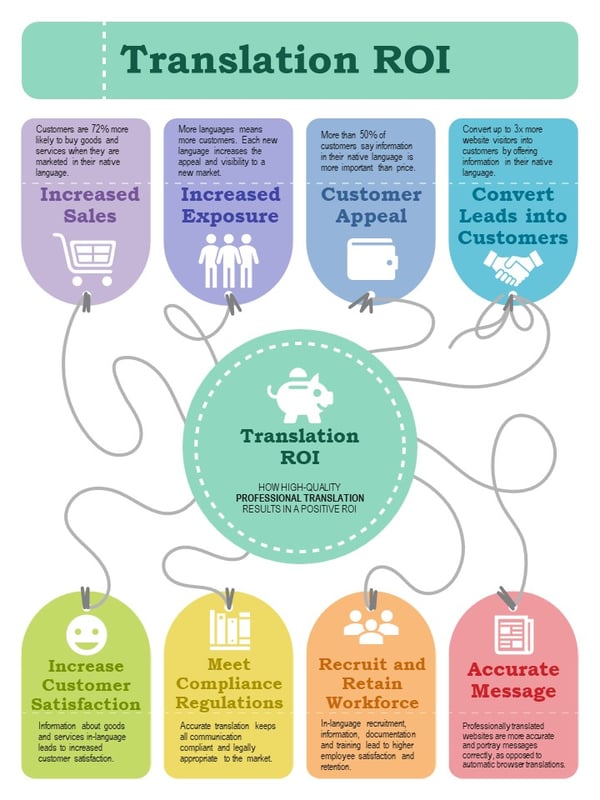 The Value of Translation
With a deeper understanding of the ways professional translation can lead to growth, it becomes obvious that the benefits outweigh the costs. Once your translation project is complete, look at the quantifiable and unquantifiable metrics to evaluate the services. The ROI can be proven through an increase in exposure, conversion, and sales, and reflected in an improved customer and employee experience.
By targeting global markets, you expand your reach. These new markets, with millions of potential customers who feel a connection with your company, fuel growth and success.
Ready to take your business to the next level? Contact Rapport International - with our 100% satisfaction guarantee, we are here to guide your company to success.
Rapport International specializes in multilingual communications, providing language translation and interpretation services that are accurate and culturally appropriate. We use the right voice and the correct terminology to avoid liability, customize services to your needs, and deliver on time and within your budget. With our 100% satisfaction guarantee, you can trust that it's done right. Contact us today if you would like more information or a free quote.