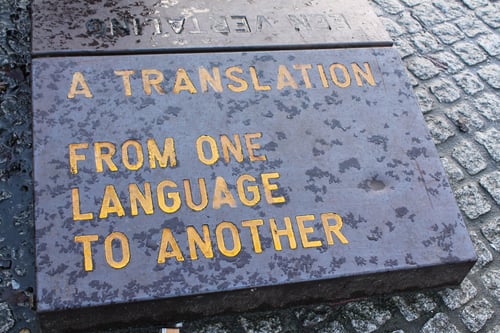 Maybe you've seen a post on social media about International Translation Day. It sounds interesting – but what does it really mean?
What is International Translation Day?
International Translation Day is a day to pay tribute to the work of language professionals world-wide. Translators take the written word in one language and convert it into another language, making sure that the translation accurately conveys the voice and meaning of the original document.
This means that language professionals can have an important role in facilitating an exchange of ideas, understanding, and cooperation between people, communities, businesses, and nations. This role helps bring people together world-wide and fosters peace, understanding, collaboration, and development.
When Did Translation Day Begin?
Celebrated by the International Federation of Translators (FIT) since 1953, International Translation Day became official on May 24, 2017, when the General Assembly of the United Nations (UN) adopted resolution 71/288. This resolution focused on the role of language professionals in connecting nations and designated September 30th as International Translation Day.
Why September 30th?
The UN chose September 30 because it is the day of the Feast of Saint Jerome, who is considered the patron saint of translators.
Saint Jerome was a priest from Northeastern Italy who:
Translated most of the Bible into Latin from the Greek manuscripts of the New Testament.
Translated parts of the Hebrew Gospel into Greek.
Was of Illyrian ancestry, and his native tongue was the Illyrian dialect.
Learned Latin in school and was fluent in Greek and Hebrew, which he picked up from his studies and travels.
Died near Bethlehem on September 30, 420. The Feast of Saint Jerome is held on September 30th to honor him.
We celebrate International Translation Day to honor and promote translation as a profession. Today's language services professionals enable us to connect with people and do business around the world, making translation an increasingly essential profession.

Who Celebrates International Translation Day?
With several hundred language staff in offices around the world, the UN is one of the largest employers of language professionals. There are six translation services responsible for producing documents in the six official languages of the UN: Arabic, Chinese, English, French, Russian, and Spanish. There is also a German translation service employed by the UN. The services translate text, edit documents written in their native language, and standardize terms in the six official languages.
To highlight the important role of translators and other language professionals, the UN has held the UN St. Jerome Translation Contest annually since 2005. The contest is open to UN staff and students at partner universities and rewards the best translations in Arabic, Chinese, English, French, Russian, Spanish, and German. The goal of the contest is to celebrate multilingualism and the important role of translators in multilateral diplomacy.
The UN is not the only place where translation serves an important role. In business today it's important to provide information in multiple languages, whether it be contracts, documentation, websites, or forms. Expanding to global markets can lead to increases in revenue and profits, and a diverse customer base can improve stability in the domestic market. Making connections in global markets starts with providing access to your website content in the target language. Find some tips to do this in our blog, Handling Incoming Business.
How Can I Celebrate?
You don't have to work for the UN to take part in International Translation Day. Whether you use translation in your business currently, or just see the value in the services professional translators provide, it's a great day to acknowledge and celebrate their work. Here are some ideas for everyone:
Refresh your skills and practice the language you learned in high school.
View a foreign film (with subtitles).
Tell about an experience you had with a language barrier on social media. Use #InternationalTranslationDay.
Choose a new language to learn and set a realistic goal.
Imagine how others would feel if they could not understand your language.
Imagine how you would feel not being able to understand the language around you.
Research careers available in the language services field.
Find and listen to songs in different languages.
Look into ways translation services can help your company expand their reach and increase revenue.
Share what you've learned about International Translation Day with your friends and family!
What will you do to celebrate International Translation Day?
Rapport International specializes in multilingual communications, providing language translation and interpretation services that are accurate and culturally appropriate. We use the right voice and the correct terminology to avoid liability, customize services to your needs, and deliver on time and within your budget. With our 100% satisfaction guarantee, you can trust that it's done right. Contact us today if you would like more information or a free quote.