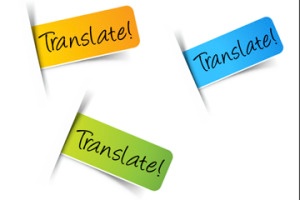 Did you know that you can increase your bottom line by using a translation company? Only 10% of the world's population speaks English as their first language, yet a person is four times more likely to buy if the sales materials are in his/her native language. Not only can you increase your sales internationally, but you can also increase your domestic sales with translation. The number of non-English speakers in the U.S. continues to grow.
Examples
Even non-profits are increasing their audience by having fundraising materials translated into Spanish and Portuguese.
Local companies are hanging signs in Brazilian Portuguese to connect with local Brazilian communities.
Hospitals and schools are required by law to provide materials in a variety of languages and the demand for this is increasing. Since the demand is high for these materials then imagine the business you miss by not targeting and translation materials into different languages.
Exporting
Less than 5% of US companies export, yet US goods are in demand since the dollar is weak. You can reach these global audiences by using a translation agency and reaching out to the resources available to your company. A list of US government resources who are willing and able to help you with the rules of exporting include:
Dept of Commerce
State Agencies – NHITRC, MA Export, many others
Pres. Obama's new exporting goals
ESIM bank
SBA
Most companies believe they need knowledge of the language and culture they are exporting to but that can be learned and hired. An especially good resource for learning about the language and culture is a language translation agency. A qualified language agency has all the technology and expertise to walk you through the initial steps of learning to export.