Here at Rapport International we believe that our greatest assets, what makes us stand out from the rest, are our professional interpreters and translators. They are the best in the business, and we'd like to share their stories. This month we are spotlighting CO (name withheld for privacy), an interpreter based in Omaha, who has been with Rapport International for over 14 YEARS! In CO's own words: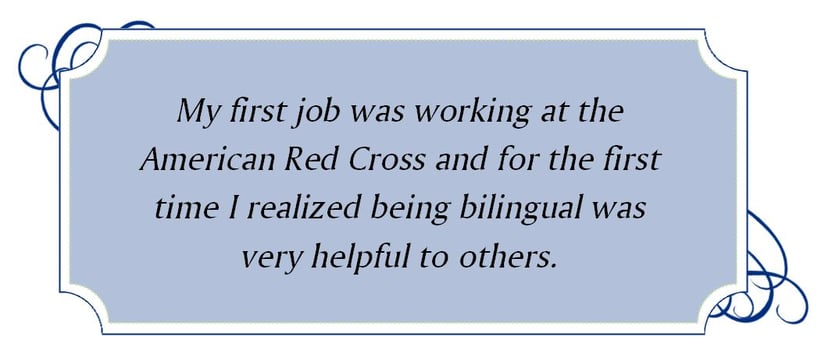 What languages do you speak fluently?
English and Spanish
What is your background?
I was born in Havana, Cuba and came to the US in 1968. My family only spoke Spanish at home and I learned English at school.
Why did you become an interpreter?
My first job was working at the American Red Cross and for the first time I realized being bilingual was very helpful to others. I then started working at a doctors' office as an office manager for 3 different physicians and continued working in the medical field for the past 43 years.
How are you qualified as an interpreter?
When I started working for Rapport International (formerly ICI Communications) I completed interpreter training program, plus I have previous experience.
What joys do you get from helping others in your interpreting, or in the community?
I enjoy helping others when they are apprehensive because they don't speak the language and are going thru a procedure. They feel at ease because they have somebody that can interpret what the physicians are saying and I can relate their concerns back to the physician as well.
When it comes to clients, what advice do you have-or what mistakes have you seen clients making when working with an interpreter?
Sometimes if the professional is in a hurry and they have not worked with an interpreter before, they usually talk really fast and don't realize it takes time to be able to interpret and for the client to understand and ask questions.
When it comes to patients, what advice do you have, or what mistakes have you seen patients making when working with an interpreter?
Sometimes the patient feels they speak enough of the language to understand what the physician is telling them. Rather than taking the chance of missing or misunderstanding important information, the patient should take advantage of the interpreting service, the interpreter can help them through the appointment and make sure nothing is missed.
What other interesting things would you like to share?
I enjoy my profession, helping people and meeting people from different backgrounds. I have learned a lot from different cultures. With Rapport International I have a very good relationship with the staff, and they are very understanding to all the interpreters' needs and concerns.
We hope you enjoyed reading CO's story. Join us again to meet another one of our extraordinary professionals, the heart and soul of Rapport International.
Rapport International is a full-service interpreting and translation company. We provide high-quality, professional translation services to clients all over the world. Quality in-person interpreting services are available in Lincoln and Omaha, Nebraska and surrounding areas, as well as in Massachusetts, and through New England.
Please contact us for assistance and guidance with your interpreting and translation needs.