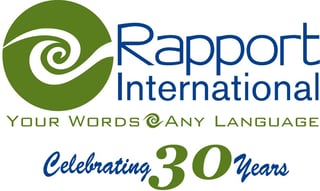 Rapport International is excited to celebrate 30 years as a Boston translation and interpretation provider. Opened in 1987, then purchased by current owner Wendy Pease in 2004, Rapport International has been growing steadily over the last three decades and is excited to see what the future will bring.
When asked what they owe their longevity and success to, the answer was recently voiced by their clients. The things that keep them coming back are Rapport International's commitment to quality backed by their industry-leading 100% satisfaction guarantee, the free consultation services with industry experts which often results in cost savings on projects, the speedy response of the staff and on-time delivery of projects, and above all else, the knowledgeable, friendly, dedicated staff. When asked about what she thinks has contributed to Rapport International's longevity, Wendy Pease said, "Without a doubt, it's our team's commitment to quality and treating people fairly".
Rapport International began in 1987 as a very small, translation company run by a single individual with several freelance translators. In 2004 the company was purchased by Wendy Pease, the current owner. Wendy explains how things were different then, "When I bought the company we used email, yet had no technological support programs or databases. We didn't have a website. Getting those things set up were a big priority for me in the beginning, and now things are so much quicker and easier to manage." In 2015, after 10 years of streamlining operations, Rapport International acquired ICI, Inc. an interpretation business based in Lincoln and Omaha Nebraska. This acquisition came with some more technological improvements that helped Rapport International's interpretation side of the business to begin to really grow and prosper both in Nebraska and New England. But the biggest asset in Rapport International's arsenal is their loyal customers and staff.
Rapport International has maintained several client relationships that span across 30 years, and they also have several linguists that have been with the company almost from the start. When asked what keeps her working with Rapport International, Patricia, a French translator, said "After 17 years, Rapport International is still one of my favorite agencies: Great project managers, great projects, and realistic deadlines. They are extremely professional and their work ethic is impeccable. They are one of the best agencies to work with." Carlos, a Spanish translator with Rapport International for 27 years, said "Rapport International promotes the professionalization of the industry by showing constant respect, commitment and support for their translators. In an industry full of peril and short cuts, Rapport International is a translation company that has built a reputation based on a commitment to high quality, which can only be achieved by treating their providers with respect. I only wish that more translation companies subscribed to these same values."
The real driving force behind Rapport International's success is its commitment to connecting everyone in the world through language. Many things have changed in the industry in 30 years, and more innovation and changes are expected in the future. One major change for Rapport International was the implementation of RapAlert, a service that provides a process called Transweblation. This is a, proprietary service introduced by Rapport International this past year that automates and simplifies the process of updating ever-changing website content for clients. Rapport International is confident that this service will continue to grow and add immense value to their customers.