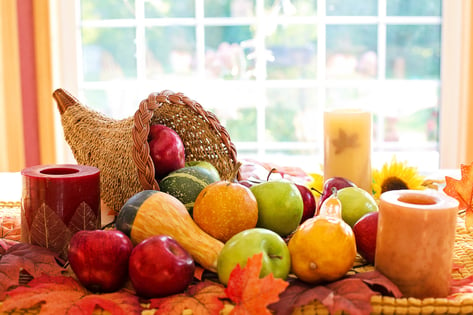 In the United States, when we think of November holidays, the first to come to mind is usually Thanksgiving. Here are a few facts about the modern-day Thanksgiving celebration:
Abraham Lincoln proclaimed Thanksgiving a federal holiday in 1863
Today, 96% of American families will gather together for a Thanksgiving feast
23% of those families will have more than 12 guests at their table
We spend an average of 7 hours cooking the feast…
…and the average amount of time spent eating the feast is 16 minutes!
What are your Thanksgiving traditions? Do you spend more or less time cooking and eating than the average? At my house we usually have 8-20 guests, I cook for well OVER 7 hours, and we probably spend about the average time eating. But all that time and effort is worth it because we get to spend time together giving thanks.
Holidays celebrated around the world in November (this is not an exhaustive list, please comment with additional holidays and celebrations):
1st November
All Saints' Day: Austria, Belgium, Chile, France, French Polynesia, Germany, Italy, Ivory Coast, Lebanon, Luxembourg, Monaco, Peru, Philippines, Poland, Portugal, Senegal, Seychelles, Spain, Switzerland, Venezuela
All Saints' Eve: Gabon
Independence Day: Antigua & Barbuda
Remembrance Day: Slovenia
Revolution Day: Algeria
2nd November
All Soul's Day: Angola, Austria, Brazil, Ecuador, Mexico, Peru, Philippines, Venezuela
All Saints' Day: Bolivia
Reformation Day: Chile
3rd November
All Saints' Day: Finland
Culture Day: Japan
Independence Day: Dominica, Panama
Independence of Cuenca: Ecuador
5th November
All Saints' Day: Colombia
Guy Fawkes' Day: United Kingdom
10th November
Ataturk Memorial Day: Turkey
11th November
Armistice Day: Belgium, France, French Polynesia
Father's Day: Finland
Independence Day: Angola, Poland
Remembrance Day: Bermuda, Canada
Republic Day: Maldives
Saint Martin's Day: Germany
Veterans Day: United States of America, Puerto Rico
12th November
Independence of Cartagena: Colombia
14th November
Colombian Women's Day: Colombia
15th November
National Peace Day: Ivory Coast
Proclamation of the Republic: Brazil
18th November
Independence Day: Morocco
National Day: Oman
Vertieres' Day: Haiti
19th November
Discovery Day: Puerto Rico
Garifuna Settlement Day: Belize
National Day: Monaco
20th November
Revolution Day Memorial: Mexico
22nd November
Independence Day: Lebanon
Thanksgiving: United States of America
23rd November
Labor Thanksgiving Day: Japan
25th November
Independence Day: Suriname
28th November
Independence Day: Albania, Mauritania
Proclamation of the Republic: Chad
30th November
Bonifacio Day: Philippines
Independence Day: Barbados
St. Andrew's Day: Scotland
Rapport International works with customers who do business internationally or with culturally diverse customers, and we love to celebrate with our clients. We hope you've enjoyed the information above, and that you'll join us in celebrating on a global level.