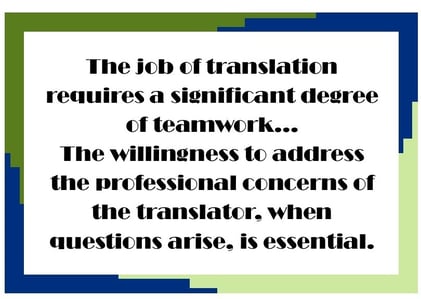 Here at Rapport International we believe that our greatest assets, what makes us stand out from the rest, are our professional translators and interpreters. They are the best in the business, and we'd like to share their stories. This month we are spotlighting MK (name withheld for privacy), a translator, who has been with Rapport International for over two years. In MK's own words:
Besides English, what languages do you speak and/or translate?
I am a native speaker of Japanese. I studied French and Spanish in school, however my facility with those languages does not equal my accomplishments with English. Currently I am learning Russian.
What is your background and story (where are you from, if you were not born in the US when did you come to the US, if you did; how did you come to speak more than one language, etc.)?
I was born in Japan and lived there for most of my youth. In Japan, we begin learning English as a second language in 7th grade. Learning a new language was - and is - fascinating. I watched a lot of American cinema and listened to American music as part of the studying process. I believed that one could achieve a level of a language skill while living outside of an English-speaking country. Of course, language and culture go hand-in-hand, so finally I decided to come to the United States in order to experience the culture firsthand. Initially I was going to visit the United States for just 3 months, but my "visit" has extended over 20 years.
Why did you become a translator?
I was not really planning on being a translator. Originally, I was attending an interpreter training school, as I was more interested in interpretation. After I attained a position as a project coordinator at a localization company, I became more interested in translation. One of reasons for that change of direction is that translation gives me a lot of opportunity to conduct in-depth research (thanks to the Internet, research is greatly facilitated) and to find the best possible words and phrases for corresponding English. After I left the localization company, I became a freelance translator, and have been translating for more than 20 years.
How did you become qualified as a translator (Training and experience)?
I worked for a software development company in Tokyo as a sales representative. I learned technical aspects of the industry, and I became familiar with business practices in Japan: that proved to be a great asset for translating business and marketing documentation. Not only that, my manager at the software company, who was proficient in communication, often checked my writing; his mentoring provided excellent training.
What joys do you get from your work?
Acquiring Knowledge! Translating documentation appropriately requires specific knowledge and attention to detail. I am exposed to many new technologies and disciplines translating documentation and researching related topics on the Internet. I also enjoy the challenge of translating words and phrases that contain concepts that may not exist in the Japanese language, and then translating them into the best possible Japanese.
What advice would you give to a company looking to have their first translation done?
Because translation is not a simple replacement of one language with the other, ideally having an experienced translator who has vast knowledge on a particular subject is required for successful translation. Experienced translators understand what they need to know contextually, in order to deliver quality translation, and are sensitive to possible grammatical and cultural issues. Choosing experienced translators who pay attention to details is a good start. However, merely choosing a translator and providing a document to translate is not enough to insure a successful translation. The job of translation requires a significant degree of teamwork: clients may be required to clarify technical jargon, and to provide references as much as possible. The willingness to address the professional concerns of the translator, when questions arise, is essential.
What do you do outside of work?
I am an avid reader, exploring a variety of books in Japanese and English. Exposure to a wide range of books and periodicals improves my reading and writing skills in both languages.
What other interesting things would you like to share about yourself personally?
I find traveling to be deeply rewarding. I usually combine my other interest, Fine Art, with travels in the States and abroad. As an Art History major, I look forward to visiting important museums and galleries. I sometimes decide my destination based on which museums and art exhibitions are available. When I experience iconic paintings that I had known only from slides in Art History classes, I am overwhelmed with joy.
Do you have any favorite memories or things you want to share from your culture or history?
Japanese food is not just about Sushi, Tempura, and Ramen. Every time I go back to visit Japan, I am amazed by the extremely rich food culture. There is so much variety in vegetables, fruit, local seafood and meat. Everything is grown with painstaking work and care by producers who have passion for producing food of high quality and deep flavor. As I travel in Japan, I still find fish that I have never tasted before. Those types of fish are not caught widely enough to distribute throughout Japan and are enjoyed mostly by local people. My most recent experience was the tilefish that I savored in Toyama Prefecture (central Japan, on the Japan sea side). The tilefish was only a small portion in a multicourse meal, but with the rich flavor of the fish, and its broiled, super-crispy skin, the impact was remarkable, and the memory of that delicacy still lingers. On my next trip, I am looking forward to having fan shrimp, which are not available where I grew up. The shape and appearance of the fan shrimp are not very enticing, but the uncommon crustacean is said to be really tasteful, much more so than lobster.
What other interesting things would you like to share about your experience professionally (any fun or heartwarming stories our readers need to know)?
I enjoy translating broad subject matters ranging from state-of-art medical equipment and extremely precise measurement systems, to new technologies which have not yet been commercialized. Those are for large businesses with multiple end users - I rarely have the opportunity to translate personal documents. However, one time, I translated a psychological evaluation for a Japanese boy who was struggling to adjust to his new environment. I wished I could have given the family some words of encouragement, but being a professional, I knew that would not be appropriate. I can only hope that having the evaluation translated into their native language helped improve the outcomes of his case.
What other positive thoughts do you have about yourself, other translators, your work, or Rapport International?
I have enjoyed working with Linda Spooner at Rapport International. She is a wonderful Project Manager to work with. Her fast responses and understanding of projects, and the complex nature of our work, really makes my job easier. (Thank you, Linda!)
We hope you enjoyed reading MK's story. Join us again to meet another one of our extraordinary professionals, the heart and soul of Rapport International.
Rapport International is a full-service interpreting and translation company. We provide high-quality, professional translation services to clients all over the world. Quality in-person interpreting services are available in Lincoln and Omaha, Nebraska and surrounding areas, as well as in Massachusetts, and through New England.
Please contact us for assistance and guidance with your interpreting and translation needs.