Here at Rapport International we believe that our greatest assets, what makes us stand out from the rest, are our professional interpreters and translators. They are the best in the business, and we'd like to share their stories. This month we are spotlighting LH (name withheld for privacy), an interpreter based in Lincoln, who has been with Rapport International for about two years. In LH's own words:
What languages do you speak fluently?
Besides English, Vietnamese.
What is your background?
I was born in Vietnam and immigrated to the US at age 19. I went to high school, college, and am now in nursing school and will graduate this December!
Why did you become an interpreter?
It started out that I needed a part time job, but I ended up loving it because it is kind of like my nursing career. I want the client to understand and make their own decisions. Some minorities don't care or have very poor health literacy. I love to be there to interpret and educate them with my nursing experience.
How are you qualified as an interpreter?
I have a nursing background and understand medical terms. I can speak both languages fluently and can deliver the message correctly.
What joys do you get from helping others in your interpreting, or in the community?
I am happy when the patient understands their diagnoses, and what they should do to get better. I like to interpret questions for the physicians or nurses to help the patients. I am excited when the patient feels they understood everything before leaving the office. I also love feeling like I am helping to inform and educate them about their condition.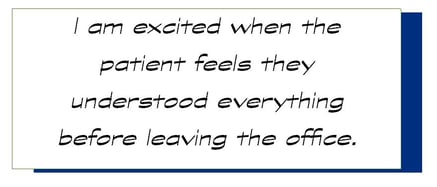 When it comes to clients, what advice do you have-or what mistakes have you seen clients making when working with an interpreter?
Interpreters are not there to interpret like google. Most patients do not understand their health and how to maintain it. Clients should give patients time to understand.
When it comes to patients, what advice do you have, or what mistakes have you seen patients making when working with an interpreter?
Don't let family come into the appointment, sometimes it is best to have an unbiased person there to work with you where you can be as open and honest as you need to be (and there is no one answering for you, besides a professional interpreter).
What other positive thoughts do you have about yourself, other interpreters, the clients, the patients, or the company?
I see a lot of sad stories, people are struggling and so they avoid going to the doctor's office. Having interpreters can really relieve some of their worries. Be mindful, don't judge, and help them as much as you can.
We hope you enjoyed reading LH's story. Join us again to meet another one of our extraordinary professionals, the heart and soul of Rapport International.
Rapport International is a full-service interpreting and translation company. We provide high-quality, professional translation services to clients all over the world. Quality in-person interpreting services are available in Lincoln and Omaha, Nebraska and surrounding areas, as well as in Massachusetts, and through New England.
Please contact us for assistance and guidance with your interpreting and translation needs.