Here at Rapport International we believe that our greatest assets, what makes us stand out from the rest, are our professional interpreters and translators. They are the best in the business, and we'd like to share their stories. This month we are spotlighting AZ (name withheld for privacy), an interpreter based in Omaha, NE who has been with Rapport International for about two years. In AZ's own words:
What languages does you speak fluently?
Besides English, I speak French and Spanish
What is your background?
I was born and raised in Switzerland, but my dad is from Spain. This is why my first languages are Spanish and French. In school, I learned English and German. I never really liked German, so I focused more on learning and improving my English.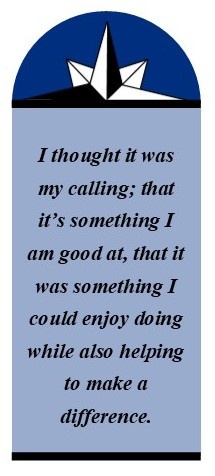 Why did you become an interpreter?
I love languages very much. I have always had the desire and motivation to learn more about the languages I already know, as well as trying to learn new languages; like Chinese, for example. Languages evolve, change, adapt to society. As a good professional interpreter, we must always be up-to-date, aware of changes to novelties that may affect the linguistic and cultural environment. Being an interpreter is a daily challenge -- and I love challenges.
How are you qualified as an interpreter?
I have a degree in French linguistics. I spent a year in France to specialize in translation and interpretation in French, Spanish and English. In Spain, I have worked as a French and Spanish teacher as well as a translator and interpreter for the police and private companies. After I started working for Rapport International, I finished a course in medical interpreting. With my experience in different environments and my continuous learning, I can provide an accurate and suitable interpretation service to each situation.
What joys do you get from helping others in your interpreting, or in the community?
As interpreters, we aid communication by converting a message from one language into another language. But the best is that we get to help people using our hard-learned language skills, we get to see the relief on people's faces when they are able to communicate in their native language in a foreign country. We feel like we are making a difference. It is dynamic. No two jobs are the same, and we get to live vicariously through the experiences and emotions of our clients and limited English proficiency patients. We're always in a learning environment, no matter what assignment we take on.
When it comes to clients, what advice do you have-or what mistakes have you seen clients making when working with an interpreter?
During the medical/legal encounter the health care professional or legal representative should speak at an even pace in relatively short segments, and pause so the interpreter can interpret. Acknowledge the interpreter as a professional in communication. Respect our role.
When it comes to patients, what advice do you have, or what mistakes have you seen patients making when working with an interpreter?
During the medical/legal encounter the patient should speak directly to the health care professional or legal representative, not the interpreter. Patients see the interpreter as a friend, a helper. They want to talk to the interpreter about their problems, families, etc. As a professional interpreter it is not appropriate to have side conversations, advocate or do anything else that has nothing to do with the medical/legal encounter. Patients have to understand that everything that is said will be interpreted.
What other interesting things would you like to share about yourself personally?
I need to remember why I started in the field. I must have chosen it because I thought it was my calling; that it's something I am good at, that it was something I could enjoy doing while also helping to make a difference. I remember to take every experience as a learning opportunity, also to continually improve on my skills. I love what I do.
What other interesting things would you like to share?
The best thing that can happen to any professional is that they congratulate you for your work, for your attention and dedication. That is the best reason to move forward. Knowing that the people I work with, both health care professionals and patients, are happy with me and my performance, fills me with joy.
We hope you enjoyed reading AZ's story. Join us again to meet another one of our extraordinary professionals, the heart and soul of Rapport International.
Rapport International is a full-service interpreting and translation company. We provide high-quality, professional in-person interpreting in Lincoln and Omaha, Nebraska and surrounding areas, as well as in Massachusetts, and through New England.
Translation services are available worldwide. Please contact us for assistance and guidance with your interpreting and translation needs.