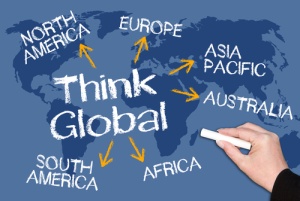 The State Department says that companies that did not export as recently as ten years ago now derive 40% of their revenues from international sales. If your company is considering going global, heed two suggestions to be successful in exporting. The first is to find a good partner for each country and the second suggestion is to communicate in the target country's language and customs.
Get help to decipher the maze
The business environment in countries outside the United States all vary. If you enter a foreign market the way you would do business in the US, you will fail or your return will be smaller and slower than if you had help from the start. You want to find an expert that can help you in the following areas:
Assessing Market Potential – Solid market intelligence on market size and economic climates and trends will give you information to make an informed decision on potential markets to enter. With this information, you can avoid markets that "look good" or may have trends that may hinder your business.
Finding opportunities – Well researched customer and competitive analysis in a market will allow you to quickly target potential clients rather than learn too late that the market is saturated or that you have identified wrong targets.
Understand the business framework – Laws, financing, regulatory, environment, politics and accepted marketing practices vary widely from country to country. Get help from a knowledgeable consultant to avoid unforeseen pitfalls.
The right partner will be different for each country that you target. The person should be a key player in the business community, reputable, and have marketing expertise. Do your due diligence before any final agreements. Firing a partner can be more costly and time intensive than not hiring the right person in the beginning. A good place to start finding a partner is through the US Commercial Service worldwide network, www.trade.gov/cs/. The New England office is based in downtown Boston (617) 424-5958. Or you can find private consultants that work in NH at the New Hampshire International Trade Association/Resource Center, www.nheconomy.com/exportnh/, (603) 271-8444.
Use the local language
The second suggestion is to communicate in the target market's language. The State Department has estimated that US firms lose $50 billion in potential sales annually because of lack of translation. To be successful in your venture, you can greatly increase your odds of exporting success by working with a professional translation company that will guide you away from language and culture mistakes.
Some exporters try to save costs by handling translations in the following ways:
Keeping materials in English because it's "the international business language". According to IDC, a leading research firm, 85% of Web Pages are in English but only 45% of the Web's users are native speakers. Users of the Internet prefer to conduct business in their own language. There is no international language. Make sure to use the language your customers speak whether it is for your website or other business materials.
Using in-house personnel to translate –You employ trained marketing professionals to write marketing materials. You also want to employ a trained professional for translation. Simple word choice and meaning can be glossed over with someone not trained in translation.
Picking only English speaking countries to enter –Deciding to enter an English-speaking country may save you on translation but cost you in lost revenue in other large markets that are more appropriate for your product or service.
Hiring the cheapest translator – Be careful, you get what you pay for. Translation companies get resumes everyday from people who speak another language and want to "pick up some extra work". You want to make sure you are getting someone experienced, educated and knowledgeable about your business. This is not a service to shop on price.
Depending on your distributor to translate – You've taken the time to prepare the materials in your own language, take the time to make sure that it conveys what you want. Then ask your distributor to proof the professional translation to make sure that it captures the nuances of your particular industry.
By getting expert advice on how to decipher the maze of a new market and remembering to speak your target market's language, you are well on your way to being a successful exporter and increasing your global revenues.
See more information and a list of valuable resources on our Exporter Resources page.