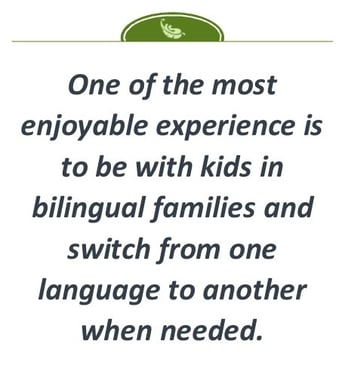 Here at Rapport International we believe that our greatest assets, what makes us stand out from the rest, are our professional interpreters and translators. They are the best in the business, and we'd like to share their stories. This month we are spotlighting EK (name withheld for privacy), an interpreter based in Massachusetts, who has been with Rapport International for over two years. In EK's own words:
What languages do you speak fluently?
Besides English, Russian and French.
What is your background?
I was born in Moscow, Russia. I came to the US as a Post-Doctoral fellow at Boston University. My second language was French, and I had to learn English as fast as possible. My major sources were my new American friends, public radio, TV news and extensive reading.
Why did you become an interpreter?
I love languages and I have great respect for people who are able to speak more than one. Translation and interpretation from one language to another keeps one's brain working harder, especially when one is trying to find the best possible option. It also provides me an additional purpose in life.
How are you qualified as an interpreter?
In order to become a professional interpreter, I went thru extensive medical interpreting training and testing. I've found that I enjoy written translation more than interpreting because it gives an opportunity to expand vocabulary and use creativity. Although, I still enjoy the interpreting as I like to help people communicate.
What joys do you get from helping others in your interpreting, or in the community?
Very often, elderly people ask me to translate letters from different service providers, to accompany them to their appointments, to make phone calls on their behalf. It definitely gives me a joy of helping others. One of the most enjoyable experience is to be with kids in bilingual families and switch from one language to another when needed.
When it comes to clients, what advice do you have-or what mistakes have you seen clients making when working with an interpreter?
In the Russian community, it's mostly elderly people who need interpreters, and not just interpreters- but also a support person. In many cases, they get confused in situations using the telephone. Medical staff often underestimate difficulties of consecutive translation and don't make enough pauses. It's important for interpreters to remind the client about the amount of reasonable information to be interpreted at once before pausing.
When it comes to patients, what advice do you have, or what mistakes have you seen patients making when working with an interpreter?
Sometimes patients, especially the elderly ones, start to share information of their personal life or something that has nothing to do with the medical visit with the interpreter. We need to remind them that the interpreter is required to relay everything the patient said to the client.
What other interesting things would you like to share about yourself personally?
Once, in the very beginning of my life in the US, when my English was still very limited, I was assisting teachers during Summer camp at a small private school North of Boston. The after-school sports program was almost over, so a teacher who knew about my work as a psychologist with the National Olympic team asked me to teach students some relaxation techniques. It sounded like fun so, we started our relaxation. Everything seemed to go as planned, the students followed my directions and looked almost totally relaxed until we moved from the head and body to their feet. I need to explain that in the Russian language the extremities of hands and feet have the same name – "pal'tzy" (fingers), and I didn't have any idea that it different in English. So, when I said with my hypnotic voice "fingers of your feet are completely relaxed", these almost relaxed bodies began to shake and soon burst into laughter. No matter what, it was still a happy ending of my first experience in bi-lingual communication because laughter is also a relaxation technique.
What other positive thoughts do you have to share?
As a very responsible, well organized and punctual professional I take my role as an interpreter quite seriously and frequently I help clients and patients with cultural differences. The team at Rapport International and convenience of communication with them on-line makes this company unique and great to work for. Thanks for having me as your colleague!
We hope you enjoyed reading EK's story. Join us again to meet another one of our extraordinary professionals, the heart and soul of Rapport International.
Rapport International is a full-service interpreting and translation company. We provide high-quality, professional in-person interpreting in Lincoln and Omaha, Nebraska and surrounding areas, as well as in Massachusetts, and through New England.
Translation services are available worldwide. Please contact us for assistance and guidance with your interpreting and translation needs.