In the United States April signals the start of a new season, and in the northeast where Rapport International is based, the blooming of nature – "April showers bring May flowers". April also signals the start of a new year for people in South and Southeast Asia, who follow the Buddhist/Hindu solar calendar. This month we highlight Songkran, the new year celebration in Thailand.
What holiday or celebration do you most look forward to in April? Comment below so we can celebrate with you.
Holidays celebrated around the world in April (this is not an exhaustive list, please comment with additional holidays and celebrations):
1st April
Republic Day: Iran
2nd April
Malvinas Day/Day of the Veterans: Argentina
4th April
Children's Day: Taiwan
Independence Day: Senegal
5th April
Arbor Day: South Korea
6th April
Chakri Day: Thailand
7th April
Women's Day: Mozambique
9th April
Martyr's Day: Tunisia
11th April
Juan Santamaría Day: Costa Rica
13th April
Songkran (4/13-15): Thailand*
Maha Thingyan/Water Festival (4/13-16): Myanmar
14th April
America Day: Honduras
17th April
Independence Day: Syria
18th April
Independence Day: Zimbabwe
19th April
Independence Day: Venezuela
King's Birthday: Swaziland
20th April
Fast and Prayer Day: Liberia
21st April
Tiradentes Day: Brazil
23rd April
National Sovereignty: Turkey
St. George's Day: England
25th April
Anzac Day: Australia, New Zealand
Liberation Day: Italy, Portugal
National Flag Day: Swaziland
Sinai Liberation Day: Egypt
26th April
Union Day: Tanzania
27th April
Independence Day: Sierra Leone, Togo
28th April
Afghan Victory Day: Afghanistan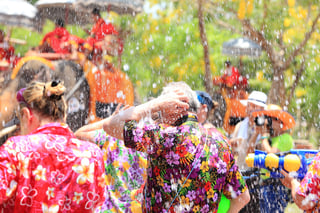 *On April 13 each year, the country of Thailand, as well as other local regions in southern Asia, celebrate Songkran, or Thai New Year. Songkran corresponds with the rising of Aries on the astrological chart, and the New Year of many calendars of South and Southeast Asia, in keeping with the Buddhist/Hindu solar calendar. The main traditions of Songkran in Thailand involve visiting and paying reverence to family and elders in hometowns, "making merit" to Buddha, or offerings to Buddha and Buddhist monks, and a water cleansing to purify and wash away sins and bad luck in the new year. The modern Songkran water festival has expanded to include large gatherings of young and old participating in water fights with water guns and splashing each other in the streets.
To read more about Songkran, click here https://en.wikipedia.org/wiki/Songkran_(Thailand).
Rapport International works with customers who do business internationally or with culturally diverse customers, and we love to celebrate with our clients. We hope you've enjoyed the information above, and that you'll join us in celebrating on a global level.